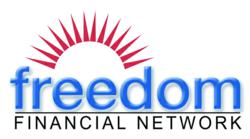 Take on a financial "spring cleaning" to stay on track for savings and eliminating debt
San Mateo, CA (PRWEB) May 22, 2012
Spring is underway, and with it comes a busy season of graduations, weddings and vacation planning. This makes it an excellent time for people to take on a financial "spring cleaning" to make sure they are on track for savings and eliminating debt, according to Kevin Gallegos, vice president of Phoenix operations for Freedom Financial Network (FFN).
To help with the mid-year review of finances, Gallegos and his team at Freedom Financial Network compiled a list of eight steps people should take to get the mothballs out of their finances.
1. Begin with a spending plan. Everyone should have a spending plan, Gallegos said. The first step is to review short- and long-term spending goals, either alone or with a partner or family as applicable. Then review expenses and income to be certain they are in line with the goals. This budget should allow expenses to be paid from regular income – not by borrowing. It also should allow for savings and debt payments as needed.
2. Control credit card spending. "Spring is a great time to make a fresh start, and top on that list in the personal finance world is reducing credit card debt," Gallegos said. The first step is to stop adding to debt. Instead of turning to plastic, withdraw cash for the week or month, or use a checkbook or debit card to make purchases. Those who find credit cards irresistible can put them away in a safe place and delete card numbers from online shopping accounts. Some people find it helpful to freeze cards in a bowl of water (the time it takes to thaw out may deter impulse spending). However, think twice before closing long-standing accounts with positive payment histories, Gallegos advised, as they positively impact credit scores.
3. Clean up credit. Once a year, request a free "tri-merge" (all three major reporting bu¬reaus) credit report from http://www.annualcreditreport.com. If the report has errors or misrepresentations, the website provides directions to ask each agency to correct or remove the mistakes. If the report contains negative information that is factually accurate, consumers can send a letter explaining the cause. Upon request, the reporting agency can append the explanatory letter to a consumer's profile.
4. Pay down debt – especially credit card debt. People who cannot pay all their debts down in a short period of time can determine a fixed monthly amount to pay toward debt. The amount should be more than the combined minimum payments on all their cards. Gallegos recommends consumers then choose either the avalanche or snowball method to pay down the debt. With the avalanche method, consumers make minimum payments on credit cards with the lowest interest rates, and put all additional available funds to the card with the highest rate. Once paid off, they put excess cash toward the card with the second-highest rate, and so on until debt-free.
With the snowball method, consumers pay the minimum on all debts, and apply any remaining funds from the overall allocated amount toward the debt with the smallest balance. After that debt has been repaid, the borrower continues paying the same monthly amount, following the same strategy. They pay the minimum on all debts, but allocate all remaining funds toward the second-smallest debt. Working on debt elimination this way gives many people the most immediate satisfaction – and motivation to keep paying off their debt.
Those who cannot afford even minimum credit card payments and face serious financial hardship can look into debt resolution. By negotiating directly with creditors on consumers' behalf to resolve debt balances, debt resolution programs can help qualified individuals resolve their unsecured debt, often in 24 to 48 months.
5. Commit to savings. Successful savers consider savings a "bill" that must be paid, even if it is as little as $1 per day. Often, people find saving easier when they take advantage of direct deposit or automatic transfer to a savings account. Three types of savings are essential. First is an emergency fund. Ultimately, this fund should contain enough to cover six to nine months of basic living expenses. Second, short-term savings can cover anticipated expenses throughout the year, such as holiday gifts, car repairs and maintenance, or an insurance premium. Setting something aside from each paycheck prepares for these expenses when the bills arrive. Third are contributions to retirement savings, whether through an employer or through an individual savings vehicle.
6. Find extra money. It is well worth the time this spring to scour household bills to see where cash can be freed up, Gallegos noted. By carefully reviewing the list of expenses from item No. 1 on this list, many people can turn up savings. Some successful savers borrow videos from the library or watch network TV instead of costly cable. Others renew a resolution to brown-bag lunch or find a more affordable cellphone. Still others get to work by carpool, bike or foot. Some people even embark on a "spending fast," cutting out all spending except for essentials for a period of time.
7. Check insurance coverage. An annual insurance coverage review is a must, Gallegos said. Check coverage for health, homeowner's or renter's, auto, disability, life and long-term care insurance, as appropriate. Consider reviewing rates with a few insurers or getting online quotes to compare premiums. Generally, high-deductible policies with low rates protect from catastrophic events while keeping the monthly burden low.
8. Go paperless – and pay on time. Paperless billing is good for the environment. It also eliminates the possibility of stolen mail and misplaced paperwork. Contact financial institutions and set up electronic billing. Enter due dates in a calendar or set accounts to automatically make a payment each month. Late fees and collection notices will become a thing of the past. Also plan to confirm funds are available in the payment account, to avoid potential overdrafts.
"Debt can be crippling, but getting finances back on track is liberating," said Gallegos. "Most people find it is well worth the investment of time and energy to check in on their financial situation this spring and diligently work to make progress to a healthier, more independent financial future."
Freedom Financial Network (http://www.freedomfinancialnetwork.com)
Freedom Financial Network, LLC (FFN), provides comprehensive consumer credit advocacy services. Through its Freedom Debt Relief, Freedom Tax Relief and ConsolidationPlus products, FFN works as an independent advocate to provide comprehensive financial solutions, including debt settlement, debt resolution and tax resolution services for consumers struggling with debt. The company, which has resolved more than $1.5 billion in debt for more than 120,000 clients since 2002, is an accredited member of the American Fair Credit Council and a platinum member of the International Association of Professional Debt Arbitrators. The company holds the Goldline Research Preferred Provider certification for excellence among debt relief companies.
Based in San Mateo, Calif., FFN also operates an office in Tempe, Ariz. The company, with more than 500 employees, was voted one of the best places to work in the San Francisco Bay area in 2008, 2009 and 2012, and in the Phoenix area in 2008, 2009 and 2010. FFN's founders received the Northern California Ernst & Young Entrepreneur of the Year Award in 2008.
(end)