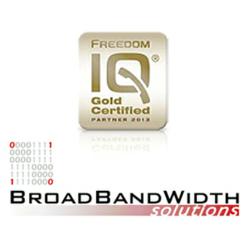 I can't imagine there's a better overall company from top to bottom is this field, and I continue to introduce FreedomIQ to my customers and prospects whenever possible.
San Diego, California (PRWEB) January 15, 2013
FreedomVoice, one of the largest US providers of cloud-based VoIP phone systems, today announced that BroadBandWidth Solutions of San Diego, California was awarded Gold level status. This is a prestigious award that only a few companies attain by being the highest achievers in the Cloud Phone System market as well as Voice Continuity and Disaster Recovery. FreedomVoice serves 28,000 businesses nationwide and produces the FreedomIQ cloud business solutions developed in house which allows for flexibility, easy integration with third party tools and cost savings for their customers. FreedomVoice also has Business Continuity and Disaster Recovery services for voice that is leading the way in the industry.
BroadBandWidth, Inc. serves Southern California, nationwide, and global companies of all sizes, in a variety of industries. BroadBandWidth is committed to customer success and satisfaction. They believe that every transaction should be a "win–win," and they strive to continually improve their customer relationships by providing exceptional solutions, services and support. They effectively integrate evolving technologies with business objectives to achieve significant improvements in operational efficiencies. This results in lower costs of doing business, improved revenues, streamlined communications and improved interaction between employees, partners and customers. BroadBandWidth also focusses on backing up voice and data whilst allowing for business continuity for voice if there are disasters, hardware failure or blackouts. They have been a FreedomVoice certified partner since May of 2009.
"Mark is a strong business leader and can really help companies move to the next level of growth by implementing best business practices and infrastructure," said Eric Thomas CEO and Founder of FreedomVoice. "He has a great understanding of what technologies are available and what is the best fit for his clientele. His caring attitude and knowledge is one of the key reasons that we work with BroadBandWidth as a FreedomIQ partner."
"In May of 2009 we became a FreedomVoice partner after recognizing the rapid advancements and maturity of this relatively new industry and technology of hosted internet phone systems. Sensing the need from existing customers on how a hosted IP PBX could help their business become more efficient and more connected than ever, we decided to start offering FreedomIQ Cloud Phone Systems to our customers" said Mark Meadows, President of BroadBandWidth Solutions. "I can't imagine there's a better overall company from top to bottom is this field, and I continue to introduce FreedomIQ to my customers and prospects whenever possible. I look forward to building on my success, but more importantly, my customer's success with the FreedomVoice hosted VoIP PBX service, FreedomIQ.
About FreedomVoice
FreedomVoice was founded in 1996 and today serves nearly 30,000 customers nationwide. It got its start providing virtual phone systems to small businesses and Fortune 500 companies alike. This service remains a key offering from FreedomVoice, including business-enhancing features such as 800 numbers, an auto attendant, call forwarding, and voicemail-to-text. FreedomVoice launched the FreedomIQ hosted VoIP phone system service in 2006 in response to overwhelming business demand for hosted VoIP phone service and has been leading the way ever since. All of FreedomVoice's platform technology has been developed in-house to provide a unique, customizable, and flexible solution that works with any company's workflow. Based in Encinitas, Calif., FreedomVoice is privately-held and remains profitable through strategic partnerships and the agility to develop new technologies a head of the curve.
For more information, please visit the company's websites at http://www.FreedomVoice.com and http://www.FreedomIQ.com.
"FreedomVoice" and "FreedomIQ" are registered trademarks of FreedomVoice Systems.