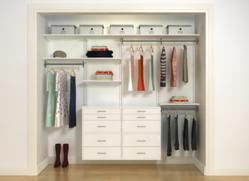 How great would it be to have a dream closet, perfectly organized pantry or gorgeous garage for free!
Cincinnati Ohio (PRWEB) August 09, 2012
freedomRail is giving away a $1,000 home storage system to one lucky winner and a one hour home organization consultation from national spokesperson and Style Network star, Amanda LeBlanc. The winner will be announced September 6!
freedomRail is a truly adjustable home storage system that organizes all areas of the home and is know for its versatility, strength and ease of installation.
"How great would it be to have a dream closet, perfectly organized pantry or gorgeous garage for free!" said freedomRail spokesperson, Amanda LeBlanc. "Fall is right around the corner and is the most popular time to organize closets throughout the home. As people begin moving back indoors, they want their home to be organized and efficient. The sweepstakes gives one lucky winner that opportunity. Plus, freedomRail is 25% off in September, so everyone can take advantage of the sale to organize their homes this fall."
The sweepstakes runs through August 31, 2012 and provides the perfect opportunity for consumers to familiarize themselves with freedomRail's innovative online design tool. In order to enter, consumers must design a storage space of their choice (no purchase necessary) using the online design tool. It takes three simple steps to enter:

Select a space to organize
Enter measurements
Select a design from freedomRail's design library
Once those simple steps are complete, entrants must complete a sign up form for one official entry. They can gain additional entries when they share the sweepstakes with their friends via email, Facebook and Twitter.
For more information about the contest, visit the freedomRail home organization blog today.
About Amanda
Amanda LeBlanc is a professional organizer, business owner and television personality with the skill and passion to help people across the United States get organized. Amanda and her team of "Amandas" set out in New Orleans in 2003 in to help people achieve their goal of organization. Having lost it all in Katrina, she's moved her organizing business to Birmingham Alabama. The Amandas' motto is "Let us change your life," and that's exactly what they will do.
About freedomRail
freedomRail is a truly adjustable storage system for every area of the home. Every freedomRail system delivers a smart solution that recognizes the consumer's needs for control and function in their day-to-day life. freedomRail solutions empower consumers to stay organized and freely in control by proving them with a system that is the ideal combination of versatility, adjustability, strength and ease. For more information, visit freedomRail.com.
# # #