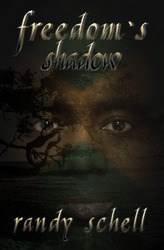 I strongly believe that Sam Sharpe's story has to be told... Sam is perhaps one of history's least known, but most intriguing, heroes
Ferndale, WA (PRWEB) July 28, 2009
Author Randy Schell recently published a new antislavery novel entitled 'Freedom's Shadow'. 25 years in the making, the novel tells the remarkable story of a 19th century slave who was instrumental in abolishing slavery in Jamaica. 'Freedom's Shadow' is a moving, carefully documented, and compelling account of one man's heroism and the sacrifices he made to bring freedom to his people.
Schell first developed the story during a trip to Sam Sharpe Square in Montgeo Bay, Jamaica. Intrigued by a statue he saw in the square, Schell uncovered a fascinating story involving Sam Sharpe, a 19th century leader and slave who launched a revolution, resulting in the eventual abolishment of slavery throughout Jamaica.
According to the fictionalized novel, Sam Sharpe was an educated slave, a Baptist deacon, and a valiant leader for his people who sought freedom from a life of enslavement. Sharpe's simple message of passive resistance spread throughout the island and culminated in Jamaican slaves refusing to work following the Christmas holiday in 1831. When the peaceful protest turned into a bloody rebellion, hundreds of slaves were executed, including Sharpe. Three years following the uprising and Sharpe's hanging, slavery was ultimately abolished throughout Jamaica.
According to the author, 'Freedom's Shadow' will appeal to readers who love history, stories of social reform, or a compelling read about heroism and unparalleled courage. "I strongly believe that Sam Sharpe's story has to be told... Sam is perhaps one of history's least known, but most intriguing, heroes," states Schell.
Reader and editorial reviews of 'Freedom's Shadow' have been overwhelmingly positive. Annabella Proudlock, a Chairman in the Jamaican Georgian Society dedicated to preserving Jamaica's history and culture, stated that the story, and how it came about being written, was "amazing".
'Freedom's Shadow' is being published by Booksurge Publishers and is available for purchase online at Amazon.com and other leading retailers. The novel is also offered wholesale through Baker and Taylor in the U.S., and the Novelty Trading Co. in Jamaica.
About Author Randy Schell:
Author Randy Schell currently resides in New Mexico. Additional information can be found on his website at http://www.freedomsshadow.com.
Media Contact:
Randy Schell
575-613-0871
###