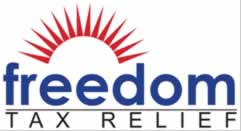 If your tax burden is more than you can handle, working with a tax debt resolution specialist can be liberating.
San Mateo, CA (Vocus/PRWEB) March 23, 2011
The 2010 federal income tax filing deadline of April 18 is just around the corner, and for taxpayers who are panicking about being unable to pay their taxes, now is the time to begin making a plan to face their tax debt, according to Freedom Tax Relief.
"The Internal Revenue Service vigorously pursues those who owe federal income tax, as well they must," said Jeff Staley, managing partner of Freedom Tax Relief, LLC. "All in all, U.S. taxpayers owe the IRS more than $100 billion dollars – and chasing down those funds is big business for the government, especially in these cash-strapped times."
Of course, for cash-strapped tax payers, it can be extraordinarily difficult to pay a tax bill, particularly if prior problems have pushed the balance due into the thousands or tens of thousands of dollars. Nevertheless, Staley emphasized how important it is to resolve tax debt to avoid serious legal and financial problems.
Staley suggests taxpayers take these steps to face their tax debt problems:
1. File the income tax return or an extension on or before the deadline. "Simply filing can be viewed as a goodwill gesture to the IRS," Staley said, "just as not filing puts a red flag on your account." Additionally, Staley pointed out, late filing incurs fees. Indebted tax payers save money by avoiding those fees, which can amount to as much as an additional 25 percent of the tax owed. In addition, late payments accrue monthly interest at 0.5 percent of the unpaid amount each month, plus interest on the balance owed. Filing one year late could add up to 38 percent to the original amount owed. "Pay as much as possible at the time you file to minimize fees," Staley suggested.
2. Borrow funds. If a taxpayer cannot pay a bill now, but could pay the tax debt over time, he or she could consider a loan to advance the funds to pay the taxes. This can be a good option if the interest on the loan would be less than the interest they would owe to the IRS.
3. Contact the IRS directly. Taxpayers who are upfront about their situation can contact the IRS directly to advise that they cannot pay their tax due. Sometimes, this action may result in reduced penalties. If the reason for nonpayment is due to a dire situation, such as a death, serious illness or natural disaster, the IRS might consider waiving penalties.
4. Apply for an installment agreement. Taxpayers who owe up to $25,000 can pay their balance in monthly installments. Along with the tax return, taxpayers must attach Form 9465 (Installment Agreement Request), or complete the IRS Online Payment Agreement application. Setting up the agreement costs $105, or $52 if the taxpayer signs up for direct withdrawal from a bank account. At the time of application, state the amount of the proposed monthly payment and a proposed monthly payment date. The agreement will accrue interest plus a late payment penalty on the unpaid taxes for each month, or part of a month, after the due date.
5. Consult a specialist. Taxpayers who owe more than $10,000 will benefit from professional help. Tax relief specialists can negotiate directly with the IRS on the consumer's behalf to help them obtain a settlement. These advisors can help obtain different types of IRS settlements, depending on the severity of an individual's situation. One of the most common settlement options is the offer in compromise, which reduces the principal amount owed to the IRS. Another common option is an installment agreement, which is a payment plan for the amount due, and often includes a reduction in penal¬ties.
6. Be cautious about bankruptcy. Most taxpayers cannot gain tax debt relief by filing bankruptcy. Unless they qualify for a Chapter 7 bankruptcy filing under the "means test," most people must file Chapter 13 bankruptcy, which establishes a repayment plan rather than wiping out all debt. If tax debt is the primary problem, taxpayers often are be better off consulting a tax relief specialist for help in negotiating with the IRS.
"Owing tax debt can be an overwhelming experience, but it is a situation that can be resolved," Staley said. "If your tax burden is more than you can handle, working with a tax debt resolution specialist can be liberating. Do not hesitate to seek help."
For an objective guide to help tax payers understand taxes, avoid tax debt problems, and find tax resolution help, Freedom Tax Relief has created a consumer guide available for download, free of charge, at http://www.freedomtaxrelief.com/four_steps.php.
Freedom Tax Relief (http://www.freedomtaxrelief.com)
Based in San Mateo, Calif., Freedom Tax Relief (FTR) provides tax representation services. Working directly with the IRS, FTR helps individuals and businesses prepare back tax returns, become compliant with the IRS, determine the optimal IRS tax resolution program and resolve tax problems. Since inception, FTR has achieved a savings rate of 87 percent on IRS-accepted offers in compromise. The company, which has served nearly 9,000 consumers since 2004, is a wholly owned subsidiary of Freedom Financial Network LLC.
# # #