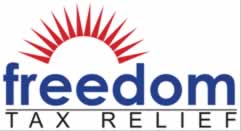 By making the right moves today, taxpayers can turn this year's refund into a benefit that returns next year and into the future.
San Mateo, CA (PRWEB) April 27, 2011
By now, most U.S. taxpayers have filed their income tax returns, and those who do not have tax debt may be eagerly awaiting their income tax refunds. The tax experts at Freedom Tax Relief LLC have several suggestions for what to do with that refund, which, according to the IRS, will average around $3,000.
"Getting a $3,000 refund is no small thing. That totals nearly 6 percent of the U.S. median income of around $52,000," said Jeff Staley, managing partner of Freedom Tax Relief. "That's why making a decision about how to use that refund is something taxpayers should take very seriously."
One of the smartest uses for a tax refund is to pay off high-interest debt such as payday loans and credit card debt, Staley said. For taxpayers without these types of debt, Staley suggests these ways to use a refund to cut next year's tax bill:
1. Make a tax change for next year. A refund might feel like a fun bonus, but in fact, it is the taxpayer's money that the U.S. government has been holding in reserve, paying no interest. Staley suggested taxpayers evaluate their W-4 tax withholding and then revise that form so that less money is withheld from each paycheck. "By taking this step, you will essentially give yourself a pay raise now," he said. "Invest that money in an interest-bearing account and you – not the government – will benefit. Staley noted that by keeping funds safe, taxpayers will still have those monies available next year if they should owe the government at that time.
2. Fund retirement. Every year, individuals can contribute to tax-deferred retirement savings accounts. These contributions are tax-deductible, up to certain limits that vary by income and type of account. It is especially smart to contribute enough to an employer-sponsored plan to capture the employer match – workers who do not do so are essentially forfeiting part of their compensation. "Planning for your future is a great way to make the most of a tax refund. It's good for those of all ages. Younger people have years for that investment to grow, and older workers need to max out their retirement nest eggs."
3. Invest in education. For people who have been considering going back to school, a sizable refund could help pay for tuition and fees. And in many cases, these education expenses are tax-deductible. Check with a tax advisor for details.
4. Plan to pay for children's college. Many states offer tax-deductible 529 college savings accounts. Contributions to these accounts are not deductible on the federal income tax form, but deductions might be available on the state tax return.
5. Save for a child's retirement. Taxpayers who are already contributing the maximum to their retirement savings might consider helping a child jump-start future retirement earnings. Children who are earning wages can contribute as much as they earn, or up to $5,000, to a Roth IRA. "This won't technically cut your taxes, but it's an excellent investment in the future for your descendants," Staley said.
6. Give to charity. Using part or all of a refund as a charitable contribution earns two benefits. Taxpayers can receive a deduction on next year's taxes, depending on income limits. And of course, the receiving organization will benefit from the generosity as well.
7. Contribute to an HSA. Many people whose health insurance policy comes with an HSA (health savings account) do not fully fund that account. Yet contributions are tax-deductible for most people, and withdrawals to pay qualifying medical expenses – at any time in life – are tax-free. These accounts are essentially emergency funds devoted to health care costs, and so savings have a double benefit of tax relief and savings.
8. Invest in an energy-efficient home. Some federal tax credits for energy efficiency upgrades have expired, but a few remain for 2011. Credits remain for some home insulation projects and installation of energy-efficient heating systems. Check http://www.irs.gov for details.
"By making the right moves today, taxpayers can turn this year's refund into a benefit that returns next year and into the future," Staley said.
For more information on understanding taxes, avoiding tax debt problems and finding tax debt resolution help, consumers can download, at no charge, Freedom Tax Relief's consumer guide at http://www.freedomtaxrelief.com/four_steps.php.
Freedom Tax Relief (http://www.freedomtaxrelief.com)
Based in San Mateo, Calif., Freedom Tax Relief (FTR) provides tax representation services. Working directly with the IRS, FTR helps individuals and businesses prepare back tax returns, become compliant with the IRS, determine the optimal IRS tax resolution program and resolve tax problems. Since inception, FTR has achieved a savings rate of 87 percent on IRS-accepted offers in compromise. The company, which has served nearly 9,000 consumers since 2004, is a wholly owned subsidiary of Freedom Financial Network LLC.
# # #