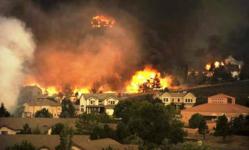 These are our friends, and as soon as they asked, we said yes. Helping others and giving back is at the core of our organization,
Encinitas, California (PRWEB) November 28, 2012
FreedomVoice, Front Range Internet Inc. (FRII), and PCG Telecom announced their collective donation of a communications system for the Disaster Response Donation and Collection Center in Larimer County. The phone system consisting of Internet service, VoIP telephones, telephone service – including full installation, will continue to aid recovery efforts of the wildfires that impacted much of Colorado over the summer.
FRII provided the labor and materials to install the system in the Foothills Fashion Mall located at 215 E. Foothills Parkway in Fort Collins; they are continuing to donate the Internet connectivity. FreedomVoice donated the Voice over IP (VoIP) services, and Braun Mincher of PCG Telecom donated VoIP phones. FreedomVoice and PCG Telecom are longstanding strategic partners with FRII.
"We offered to help because this is our community, our family and friends," explained the FRII team spearheading the communications technology. "We know the people who are affected; we are very connected to this community. Larimer County called us because they knew we could get it done," said John Stark, Business Development Manager at FRII. Braun Mincher of PCG Telecom echoed these comments saying "This is a community which has given us so many opportunities over the years, and so this is our opportunity to help our neighbors in need through the use of our technology and related resources." For FreedomVoice, "These are our friends, and as soon as they asked, we said yes. Helping others and giving back is at the core of our organization," said Eric Thomas, CEO.
ACS coordinates donations management for disaster response for 40 states and territories in the United States. To make a financial contribution to ACS, please go to http://www.acslift.org.
How you can help? For information on volunteering your services as well as donating to support those impacted by the Colorado wildfires, please go to: http://www.HelpColoradoNow.org. Be it time, goods, or money, your donation is making a difference in the lives of those affected by these devastating fires. The High Park Fire Donations Center is currently accepting the following donations:

Pet Food
Men's and Women's winter coats
Dish Sets
Outdoor wear, for example Carhartt bibs and coveralls in good condition no rips or stains
Children's Diapers, all sizes (we do not need training pull-ups)
Pots and Pans (new or in good condition)
Kitchen/Baking Supplies
New School Clothing
Linens
New Pillows
Cleaning Supplies
Paper Products
New or Used Tools
Garden/Yard Tools
Mouth Wash (not travel size)
First Aid Supplies
Pain Relievers
Insect Repelant
Furniture (good condition)*
New or Near New Mattresses*
Small Appliances (must be in working condition)
Non Perishable Food (specifically)
o Flour
o Sugar
o Oil
o Spices
o Canned Meat (tuna, chicken, etc)
o Cereal Hot and Cold
o Fruit
o Canned Meals (Stew, etc)
About FreedomVoice
FreedomVoice was founded in 1996 and today serves nearly 30,000 customers nationwide. It got its start providing virtual phone systems to small businesses and Fortune 500 companies alike. This service remains a key offering from FreedomVoice, including business-enhancing features such as 800 numbers, an auto attendant, call forwarding, and voicemail-to-text. FreedomVoice launched the FreedomIQ hosted VoIP phone system product line in 2006 in response to overwhelming business demand for hosted VoIP phone service and has been leading the way ever since. All of FreedomVoice's platform technology has been developed in-house to provide a unique, customizable, and flexible solution that works with any company's workflow. Based in Encinitas, Calif., FreedomVoice is privately-held and remains profitable through strategic partnerships and the agility to develop new technologies ahead of the curve.
For more information, please visit the company's websites at http://www.FreedomVoice.com and http://www.FreedomIQ.com.
"FreedomVoice" and "FreedomIQ" are registered trademarks of FreedomVoice Systems.