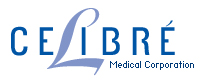 Our mission is to help each and every person look and feel their best.
Los Angeles, CA (PRWEB) October 04, 2011
For the past 8 years, Celibre Medical has been a leading provider of dermatological care in Southern California. Having performed tens of thousands of successful procedures for conditions ranging from acne treatment and hair removal to wrinkle treatment and laser resurfacing, it is no wonder that "Celibre" has become a trusted name in the skincare industry.
To commemorate its 8th anniversary, Celibre is proud to announce a new and highly unique promotion:
Every week for the month of October, Celibre will choose 5 new Facebook fans to receive a free gift, consisting of moisturizing, cleansing and age defying products - all uniquely engineered by Celibre's skincare experts and proven to work in countless trials.
One lucky winner will even receive a free course of laser hair removal treatments, the permanent remedy to a condition that can be a significant source of stress and anxiety. While the condition may be distressing, the treatment may very well be too costly for many sufferers, and thus out of reach. For one person in need who is willing to share a touching story, Celibre will sponsor a solution and offer a free course of laser treatments ($900 value) for free!
"Our mission is to help each and every person look and feel their best," says Kevin DiCerbo, Celibre's Director. "This promotion will help us share our mission with our community and give some people an opportunity to receive some free skincare."
To participate in this promotion and be eligible to win free skincare products (each gift is valued at $50), simply "Like" Celibre's Facebook page at http://www.facebook.com/celibre. New winners will be selected each week during the month of October and they will be notified through their Facebook pages.
Further details and entry to the free laser hair removal contest are available at http://www.celibre.com/anniversarypromo.aspx.
###