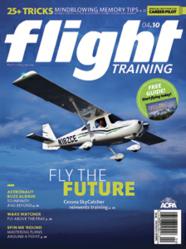 The six-month subscription to Flight Training magazine alone is a priceless resource for any student pilot.
Frederick, MD (PRWEB) April 26, 2011
The Aircraft Owners and Pilots Association (AOPA) is proud to announce its continued support of aspiring pilots through the help of free flight training tools and aviation training resources. Anyone who's interested in learning to fly or is currently a student pilot may sign up for a free flight training six-month membership that includes a subscription to Flight Training magazine, as well as aviation training aids, help finding flight instructors and flight schools, and other tools and resources that are critical to students enrolled in pilot training.
The six-month subscription to Flight Training magazine alone is a priceless resource for any student pilot. Every issue offers dependable flight training guidance from experienced pilots and flight instructors to help students develop the knowledge and skills required to fulfill each lesson objective. Informative articles include insights and techniques on flight maneuvers, safety precautions, radio communications, understanding weather conditions, and more to help student pilots keep their flight training on track.
Student pilots who take advantage of the free flight training offer from AOPA have access to aviation tools that will help them develop their aviation skills and test their knowledge. Student pilots will also be able to access AOPA's Internet Flight Planner as well as current aviation weather, and the AOPA Airports™ Online directory.
As the premier association for general aviation pilots, AOPA is committed to helping student pilots succeed in their flight training to become proficient and safe pilots. Students also have access to resources such as "Ask an AOPA Flight Instructor" and AOPA's toll-free Pilot Information Center. These unique resources offer aviation students convenient ways to get answers to their flight training questions. Flight Training instructors and experienced pilots are available to provide accurate information on anything from flying techniques to understanding Federal Aviation Regulations, help with finding a flight school, or information on aviation careers.
AOPA is committed to helping more student pilots earn their private pilot certificate. Members of AOPA are three times more likely to earn their pilot certificate than non-members. These initiatives along with the extensive aviation training resources on a dedicated Flight Training website and the free flight training membership are just a small part of what AOPA is doing to attract new pilots and ensure the future of general aviation.
The Aircraft Owners and Pilots Association is a not-for-profit organization dedicated to general aviation. Since 1939 AOPA has grown to represent the interests of more than 400,000 GA pilots, student pilots, flight training instructors, and others who support General Aviation in the U.S. and around the world. AOPA publishes two monthly magazines: AOPA Pilot and Flight Training. Enroll in AOPA's free flight training membership online or call 1.800.USA.AOPA (872.2672).
###