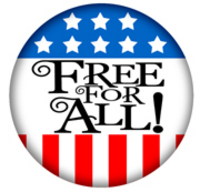 one dude's quest for democracy
Los Angeles, CA (PRWEB) July 2, 2008
Filmmaker John Wellington Ennis' Shoot First Inc. (http://www.shootfirstinc.com) is proud to present the call-to-action political documentary FREE FOR ALL! premiering online at http://www.freeforall.tv for free, starting on July 4, 2008. Just in time for the 2008 Presidential Elections, the satirical doc uncovers evidence of voter suppression schemes that swing U.S. Elections. The feature-length indie film features Ennis in "one dude's quest for democracy" with BBC investigative journalist and best-selling author Greg Palast. The FREE FOR ALL! DVD with Extras will soon be available for purchase on the website for $20.08; viewers can also download the film from the site for $4.95.
"The Election has been stolen. What you have to do is swipe it back," says Palast who is also known as "the most important investigative reporter of our time" (Britain's Tribune Magazine).
Ennis comments, "With the information coming to light regarding the 2000 and 2004 elections--like HBO's recent film 'Recount'--I wanted to create a cohesive picture for American voters regarding the misconduct that is continually happening in our electoral process, as well as empower people to create change. My non-partisan organization, Video The Vote is just one way that an individual can make a difference. The best way, of course, is to actually vote and to know voter rights."
With a humorous bent, Ennis has pieced together an incredible jigsaw puzzle of fraudulent U.S. Election schemes, utilizing sources and knowledge from his friends--like award-winning investigative journalist Greg Palast, politician turned talk show host Jerry Springer, and NYU media studies professor Mark Crispin Miller, among others.
FREE FOR ALL! features filmmaker John Wellington Ennis--a disillusioned American--in Ohio with a business suit, sense of humor, faded ideals and a camera. The film explores recent evidence of election fraud happening in the U.S. since 2000, when thousands of black Democratic voters were disenfranchised in Florida. Ennis notices the pattern reoccurring again in the 2004 Election and decides he "can't just be some dude shaking his head anymore." He grabs his camera and goes on a mission to find answers in the swing state of Ohio during the 2006 election. Along the way, while interviewing a number of authors, scholars, politicians and celebrities to piece together the big picture, he discovers a scandalous privatized electoral system. Despite the daunting evidence and circumstances, Ennis finds hope by launching his own citizen journalism group called Video the Vote, which has inspiring results. However, investigative journalist Greg Palast points out that Ennis' work is not yet done--the 2008 Election is the next to be stolen and now is the time for American voters to steal it back.
FREE FOR ALL! producer Holly Mosher says, "This election year, the game at play in Ohio and across the country is not to win the most votes, but to stop the most voters. This film uncovers evidence of a variety of schemes to swing our elections--rampant corruption, conspiracies to block millions of voters, privatized elections run by biased officials, misinformation, voter I.D. obstacles, malfunctioning voting machines, legislated voter suppression, polling place confusion, and more."
Other information that comes to light in FREE FOR ALL! includes evidence of rigged recounts, provisional ballots not being counted in swing states, systematic purging or "caging" of voters, strategic intimidation and intentional misinformation.
Using satire, comedy and animation, the film explores the concept of truth itself, questioning what we often take for granted as the basis for facts.
The film, which is co-executive produced by Richard Ray Perez (co-director of "Unprecedented"), recently held a special preview screening for independent media at the National Conference for Media Reform.
About Video the Vote
Video the Vote (http://www.videothevote.org) is a group of volunteer citizen journalists strengthening democracy by observing elections and sharing the results. Video the Vote footage from the last U.S. Election is featured in John Wellington Ennis' feature documentary FREE FOR ALL! The organization is protecting the American vote by being "eyes and ears" where ballots are cast and counted on Election Day. Any irregularities that occur at polling places and boards of elections are reported, enabling the media and public to watch-dog the electoral process. Video the Vote was created by Ennis, Ian Inaba of the Guerrilla News Network (and award-winning filmmaker of "American Blackout") and James Rucker of ColorOfChange.org. Video the Vote partners include Common Cause, the Lawyers' Committee for Civil Rights Under Law, The League of Young Voters Education Fund, People for the American Way Foundation and Rock the Vote.
For more information, please visit http://www.FreeForAll.tv or http://www.videothevote.com.
The FREE FOR ALL! trailer can be seen on http://www.FreeForAll.tv or on YouTube at http://www.youtube.com/watch?v=2eRJbbtCbF8.
Media Contacts:
Los Angeles & National Media: Heather Burgett at 310.452.9133 or heather @ hlbpr.net
New York-based Media: Jennifer Kahn at 201.286.1979 or jenkahnpr @ gmail.com
Washington DC & National Media: Cari Reisinger at 209.736.6769 or cari @ prhum.com
###