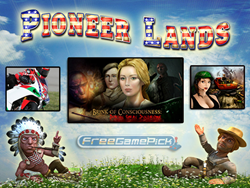 We are delighted with the fantastic range of new games that our visitors will be able to enjoy when they visit the site in September. These new games will bring hours of entertainment to our players!
Salt Lake City, Utah (PRWEB) August 26, 2014
September is set to be an exciting month for gamers as FreeGamePick confirms an assortment of brand new hidden object games, racing games and popular arcade game titles. FreeGamePick invites fans to download free games right ahead of the Labor Day holiday.
Keeping with FreeGamePick's commitment to offering its loyal players fresh challenges in an array of favorite game genres, the holiday drop includes a great assortment of new hidden object games. Each of the titles are PC downloadable and free to play, meaning there is no limit on games played or hours of enjoyment!
New in the very popular hidden object game genre for those who desire adventure with a hint of mystery is a Brink of Consciousness: Dorian Gray Syndrome. The game follows a gumshoe reporter, Sam, who must investigate a series of strange disappearances. When Sam's girlfriend is abducted, the search become more personal and intense. Gamers must use their instincts and intellect to solve puzzles and avoid wicked traps.
A totally new time management title rounds out the first of September's new strategy games. This fresh new title is the downloadable PC game Pioneer Lands. In this exciting time management strategy game, player find themselves set on the frontiers of America's Old West! This is the story of the brave pioneers who lived and tamed America's wild frontier. Players must make the long journey West, full of dangers and amazing adventure! Players explore new lands and complete an incredible range of tasks.
Superbike Racers speeds into the fast lane, leaving the other racing games in the dust! This heart pounding racing game puts players on the racetrack in a world famous motorbike racing championship. Players can train in practice mode, and then use their skills to dominate the competition. Designed to offer hours of enjoyment there are dozens of levels with three different game modes, all set in different locations with challenging tracks.
For players who enjoy classic arcade hits, PakMan 2008 puts a glittery spin on an arcade game favorite. Players must use their skills to quickly collect diamonds and score big! This addictive game has a spooky cast of characters, including monsters and ghosts!
Finally, for kids or players who desire even more arcade game hits, FreeGamePick now has the entire Milky Bear game series available for download! Players can download games, from Milky Bear Riches Rider 1-3. Gamers worldwide are enthralled with the cute, curious white polar bear, always searching for new adventures. Surprising challenging puzzles await arcade game enthusiasts in this series!
Confirming the new titles for September, Eric Powers, from FreeGamePick.net said, "We are delighted with the fantastic range of new games that our visitors will be able to enjoy when they visit the site in September. They are PC downloadable games and we are sure they are of the highest quality that our visitors expect. These new games will bring hours of entertainment to our players."
No registration is necessary to play any of the games on FreeGamePick.net. To find out more and to play, visit http://www.freegamepick.net.
Originally founded in 2008, FreeGamePick, ("FreeGamePick"), is one of the worlds largest producers of premium casual games. FreeGamePick is dedicated to bringing innovative entertainment to casual games throughout the world. FreeGamePick has served millions of gamers worldwide by providing fresh entertainment to each user, on any device. Due to FreeGamePick's exclusive web platform, users can simply browse, select and play a large variety of downloadable PC games, online in-browser and mobile games created by FreeGamePick's wide network of exclusive partners and its internal game development department. FreeGamePick's games are played in over 150 countries around the globe on many different devices across a dozen languages. The company is head quartered in Salt Lake City, Utah. For more information visit freegamepick.net.