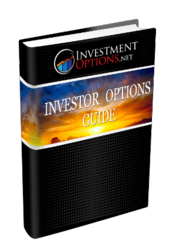 "How many millionaires do you know who have become wealthy by investing in savings accounts? I rest my case." Robert G. Allen
Squamish, BC (PRWEB) November 03, 2011
InvestmentOptions.Net has published the Investor Options Guide, a detailed guide designed to help investors sort out the possibilities of portfolio diversification through alternative investments in oil and gas.
InvestmentOptions.Net, a premier marketing company devoted to making sophisticated investors aware of the significant opportunity offered through alternative investments in oil and gas, developed the guide with the most up to date information available for portfolio diversification through oil and gas investing.
Among the topics covered by the guide, InvestmentOptions.Net explains to investors why oil and gas present such a significant opportunity for portfolio diversification and why now is the right time to consider the investment. The guide explains how portfolio diversification is always a smart strategy, detailing why gas and oil investments in particular can offer insulation against other risks. The guide explains how oil and gas, as commodities, offer investors a unique opportunity to diversify into an investment product that can react differently in the market than traditional financial investment products.
Robert G. Allen asks, "How many millionaires do you know who have become wealthy by investing in savings accounts? I rest my case." InvestmentOptions.net agrees with Allen's statement and believes that Conservative investing is not the way to build wealth or to achieve successful portfolio diversification. However, blindly investing without performing due diligence is also not the way forward.
InvestmentOptions.Net has published the Investor Options guide to provide investors with information they can use to evaluate portfolio diversification opportunities through investments in oil and gas. The guide offers details about how to determine ROI and how identify legitimate opportunities. The guide provides detailed information about the difference between operated and non-operated wells, deep and shallow wells, and exploratory versus developmental wells to educate investors about the options they have available to them when considering alternative investments for portfolio diversification.
InvestmentOptions.Net has made their Investor Options Guide available for download by accredited investors through their website. To obtain a copy of the Investor Options Guide, visit InvestorOptions.Net.
###