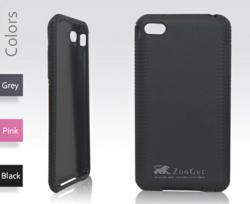 If it sounds too good to be true, it must be ZooGue
Laguna Hills, California (PRWEB) October 04, 2011
Although the announcement that ZooGue is expanding their product line should be news in itself, they have taken it one step further. ZooGue is proud to announce that they will provide the first 50,000 customers with an iPhone 5 Social Shell Case for free. This new case is unlike any other, offering a shell that is soft and yet extremely durable. The special TPU material allows the customer to handle the case without having it slip easily from their hands.
This impressive addition to ZooGue's product line will be available in Black, Dark Grey and Pink. The iPhone 5 Social Shell Case will retail at $29.99; however as a current promotion, with a simple click of the Like button on the product page, a promo code will be provided for use at check out, making the item free. Tim Angel, owner of ZooGue states, "If it sounds too good to be true, it must be ZooGue."
ZooGue's iPhone 5 Social Shell Case is available for pre-order and can be found on their website at http://www.zoogue.com. ZooGue is inspired to bring innovative products to their large base of customers who require nothing less than perfection. This latest case is proof again of that theory. They are committed to making the best products and will continue to strive for excellence.
About the Inventor
Tim Angel is a 26 year old Entrepreneur/Inventor that started ZooGue in March 2010. With his great ability to invent products that are convenient and solve common problems, ZooGue has generated over a million dollars in sales. He is driven to succeed and doesn't settle for anything less. Tim's drive and determination are what make it possible for ZooGue to bring such innovative products to the market.
###