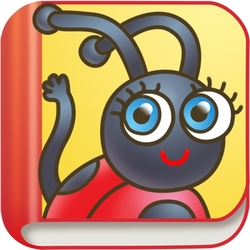 Our mission has always been to inspire and entertain children, and apps are a natural step in fulfilling that mission. You can engage kids in so many different ways with interactive media. ...Jason Patenaude, President, Carus Publishing
Peterborough, NH (PRWEB) September 30, 2010
Drawing on a 40-year history of best-in-class children's magazine publishing, Ladybug's Bookshelf presents the highest quality writing and illustration for children in an interactive format with charming animations and colorful artwork. The best writers and artists from around the globe are featured in Ladybug's Bookshelf, entertaining children while helping them master fundamental reading and learning skills.
Ladybug magazine characters Ladybug, Muddle, and Thud welcome kids to the magical world of Ladybug's Bookshelf. Here they engage directly with stories crafted with the same care and quality evident in all our magazines. Whether listening to stories read by a professional voice or reading on their own, kids will love interacting with the characters on screen and discovering surprises hidden throughout each story. At every turn, the interactive content will keep them guessing and laughing, all the while absorbing some of the finest children's content available.
Accompanying each interactive story in Ladybug's Bookshelf is an activity built on its concepts and characters. Kids will have hours of fun creating a barnyard symphony, coloring a rainbow, or beating Thud to the punch line of his favorite joke, as they learn about the world around them.
And Ladybug's Bookshelf offers a continual stream of fresh, high-quality content. Everyone who downloads Ladybug's Bookshelf will have access to a new content bundle every six to eight weeks.
Go to http://www.cricketmag.com/iphone for details, to watch a preview video of the iPhone app, and to see screen shots of the free story, "Three O'clock on the Farm." Go to http://itunes.apple.com/us/app/ladybugs-bookshelf/id392049880?mt=8 to download the app from the Apple iTunes App store.
Since its founding in 1973, Cricket Magazine Group has set the standard for quality children's literature—winning over the last three years alone more than 30 Parents' Choice awards. Titles currently published under the Cricket Magazine Group banner include: Babybug, Ladybug, Spider, Click, Ask, Muse, Dig, Cricket, AppleSeeds, Calliope, Cobblestone, Faces, Odyssey, and Cicada.
###