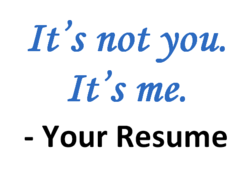 I didn't realize it, but my resume was the number-one enemy in my job search.
(PRWEB) October 06, 2012
JibberJobber and Movin' On Up Resumes are proud announce an upcoming webinar, taking place on October 10 at 9 a.m. MT, that helps job-seekers craft a winning resume.
"I didn't realize it, but my resume was the number-one enemy in my job search," says Jason Alba. Prior to founding JibberJobber, a relationship management platform for jobseekers, Alba was himself unemployed and frustrated with his job search.
Enter Kim Mohiuddin, chief career storyteller and resume writer at Movin' On Up Resumes. "It can be intimidating to write your own resume," she says. "Most how-to books are an inch thick and information on the internet can be conflicting and confusing, so people revert to what they know. They use an outdated format and strategy that doesn't appeal to human or electronic screeners."
Alba and Mohiuddin aim to solve this disconnect. In their upcoming webinar, No Dream Job Yet? It Could be Your Resume, they will provide basic explanations, a checklist, and templates that an average job seeker can use to ensure they have an interview-winning resume without having to become an expert. Topics include:
The Resume Black Hole: What Happens After I Hit "Submit?"
Navigating The Black Hole: How Do I Give Myself a Fighting Chance With an Electronic Screener?
Beyond the Black Hole: How Can I Optimize My Resume to Appeal to Human Decision-Makers?
Webinar attendees will receive Word templates to get them started, since most people have trouble formatting their own resumes and Word's templates are pretty bad for visual and technical reasons. "Applicant tracking systems don't read tables properly and Microsoft resume templates are rife with them," says Mohiuddin.
The webinar is the first in a new JibberJobber "Ask the Expert" series. For people in transition who need effective strategies, or savvy employees wanting to keep their fingers on the pulse of modern career tactics, the series and its first installment promise to deliver. And with no cost to attend, job seekers can still afford a nice suit for the interview!
Jason Alba had a few jobs under his belt before enduring his first formal—and disheartening—job search. Realizing that there was no tool to organize and execute an effective job search, he created JibberJobber. Alba is also author of I'm on LinkedIn, Now What? as well as I'm On Facebook, Now What? He helps job seekers through these pithy, actionable guides, personal appearances nationwide, and http://www.JibberJobber.com
Kim Mohiuddin, chief career strategist of Movin' On Up Resumes, is a Nationally Certified Resume Writer, Certified Job Search Strategist, and former certification chair of the National Resume Writers' Association. Her innovative approach stems from dual passions for writing and marketing as well as experience as a hiring manager. Her resumes and career articles can be found on multiple print and online platforms. Learn more at http://www.MovinOnUpResumes.com.
Details:
Title: No Dream Job Yet? It Could Be Your Resume.
Date: Wednesday, October 10, 2012
Time: 9:00 AM – 10:00 AM MDT (note: that is MOUNTAIN TIME. Schedule this appropriately based on your own time zone)