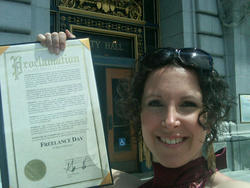 San Francisco, CA (Vocus) June 5, 2010
San Francisco Mayor Gavin Newsom has proclaimed June 5th to be Freelance Camp PRO day, in honor of the first Freelance Camp "unconference" to be held tomorrow in the city. Due to popular demand, the organizers of Freelance Camp San Francisco 2010 have created a new sub-brand, Freelance Camp PRO, targeting professionals who have been running a freelance consulting business full time for a year or more. The event will be more focused, business topics more advanced, and participation is expected to be at a deeper level.
The morning will kick off with a brainstorm of topics. Participants with something to contribute or a topic idea generate the breakout sessions which are then scheduled throughout the day.
The after party, sponsored by MBO Partners, will further the small business networking and knowledge exchange in a casual, social setting.
Freelance Camp PRO is sponsored by MBO Partners, a financial and legal business platform that solopreneurs, consultants and freelancers can operate their small business through instead of incorporating. They are joined by co-sponsors 24 Seven, Bottom Line Law Group, Colliers International, Cosmic Design Company, Elance, Mozilla, NextSpace Coworking San Francisco, Outright, PariSoma Innovation Loft, Pennbrook I CAIB Insurance Services, Popchips, Shane & Peter, Inc. and Speck.
Don't miss Freelance Camp PRO SF at NextSpace Coworking San Francisco, 28 2nd Street, 3rd Floor. Tickets are at http://freelancecamppro2010sf.eventbrite.com/. Tickets are expected to sell out.
About MBO Partners
For nearly 25 years, MBO Partners has been making it easier for independent consultants and freelancers to operate their solo businesses. With our Portable Employer of Record Service powered by the MyBizOffice® system, MBO Partners is the leading alternative to self-incorporation for independent consultants and independent contractors. Our solution is a complete business and financial infrastructure for small businesses that includes legal vendor setup (contracts, professional liability insurance, and other vendor qualifications necessary to do business with the Fortune 500), financial management (billing, collections, expense tracking, and tax accounting), true group benefits (access to group medical, dental, life, disability, and our tax-advantaged 401(k) retirement plan), and a dedicated live Business Manager to support your small business affairs. Focus on what you do best, and let MBO Partners handle your back office. http://www.mbopartners.com
###