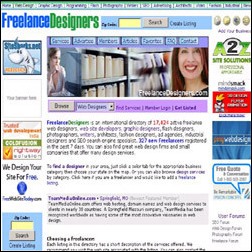 I think the secret to our success is that unlike many freelance sites on the web today, we do not attempt to get in between the client and the freelancer. We do not take a commission on projects. We simply make it easy for people to find the right person for their project
Atlanta, GA (PRWEB) October 5, 2006
So what's new at FreelanceDesigners.com? Quite a few things have been added since last year. These new features will help each of the two types of users of our site. Our members are professional service providers and list their services in the international directory. Members can track click-thrus to their site and archive messages. The second type of user is the potential client looking to hire a freelancer. All of our new additions are aimed at making it even easier for these two people to directly connect and do business.
"I think the secret to our success is that unlike many freelance sites on the web today, we do not attempt to get in between the client and the freelancer. We do not take a commission on projects. We simply make it easy for people to find the right person for their project"

Joe Sado - Advertising Sales Manager for FreelanceDesigners.
New Categories:
The site started with 7 basic categories: Graphic design, Web design, Flash designers, Programmers, Writers, Photographers and Search Engine Optimization (SEO) providers. After months of research we have carefully chosen five brand new categories:
Videographers
Advertising Design
Industrial Design
Fashion Design
and Architects
Every new category in the directory can be narrowed down to find those service providers in your local city or state. As always listings are free, and we also offer optional paid upgrades for bold and state-wide listings.
National Services Directory:
With our new services directory you can browse for specific services such as logo design, wedding photography, packaging design, database programmers, and almost 100 more specific services so you can be sure to find a service provider that specializes in exactly what you need. This creates a unique opportunity for members to purchase national ads for specific services, and as always, basic listings are free.
Member Portfolios
We have launched a sister site freelancedesigners.org that allows freelancers to create their own unique web site. These sites allow the user to upload their photos and logo as well as create portfolio pages and client testimonials. These sites are all absolutely free of charge, our way of saying thanks to our users. The Portfolio pages are currently in beta testing and any member of frelancedesigners.com can login and create their free profile and portfolio.
Favorites
Visitors can easily keep a list of their favorite designers so when they have another project come up its easy to go back to their list of saved favorites. We will be adding even more features to this "favorites" feature in the near future to facilitate communication between the clients and freelancers.
What is in store for the future?
We are planning on adding testimonials that our members can show on their freelancedesigners.org profile page. We are also launching some similar sites that will integrate with freelancedesigners.com. For example Logo Designers Directory will allow designers to show off example logos for users to browse.
PrintDesignPlanet.com is a directory of graphic designers and print shops that will also provide graphic templates for business cards and brochures, there are several projects in the works.
Design Quote.net allows you to submit a project and several designers can provide you with estimates for completing your project.
What our members Say:
"I have a featured listing and currently considering add some more in other states. I barely believed the [other] designer's testimonials but now I am sure that all they are saying is absolutely true. My business is growing in an impressive way. I use to have 4 to 5 new customers requests a month and after having my listing with you it now is 4 to 5 every week!! I'm absolutely impressed with the effectiveness of my listing, Many thanks."

Site Background:
From 1998 to 2004 the site went through several variations trying to find a successful format, finally in 2004 the current directory structure was implemented. The current site officially launched in 2004 and continues to grow adding over 1000 members each month. Several exciting new features have been added since our launch.
While the site is focused on connecting individual freelancers with new clients, the site is also open to business and entrepreneurs offering similar services.
The site was developed by Vexcom CEO Wesley E. Warren and Vexcom Creative Director Jessica Warren who both started off as freelance graphic designers in the early 1990's.
"Its hard starting out in freelance. It takes time to get your name out there. The Internet offers a great way to get exposure, but it can be expensive to advertise on a freelancer's budget. This is why we keep basic membership free. We help build our members business and then, hopefully, they come back and upgrade to a paid listing" said Mr. Warren, "We are proud to introduce a host of new features to make the site even more powerful for today's dynamic freelance industry."
Major Growth
Freelance Designers now averages over 300,000 unique visitors each month (about 10,000 per day), generating over 4 million page views. This is compared to an average of 100 per day at launch in 2004! Our advertisers get the most out of their advertising dollar with premium ads receiving an average of 1500-2000 clicks each month from potential clients.
We offer a wide range of advertising upgrades from the very inexpensive for new freelancers watching their budget, all the way to major firms looking to bring in many new leads a month.
Other Markets
Vexcom, Inc. is the parent company that developed FreelanceDesigners.com and they also manage several other sites, including MYOFB a resource for protecting personal internet privacy and security. Using a similar model to freelancedesigners.com, web designers directory is a directory specifically for web designers, and Event Planners Directory which lists event resources like photographers, videographers, entertainment, catering, wedding planners and more.
Vexcom, Inc. is also preparing to build portals for other industries and markets. In the fourth quarter of 2006 they will be launching Vacation Road to feature vacation properties for rent. A wiki-type community driven city guide, http://www.mycityguide.net which allows anyone to add locations on their city or review existing locations such as restaurants, museums, nightclubs and shops.
We plan on taking the things we learned with Freelance Designers and applying it to other industries. Our focus is on taking a niche market and organizing the information in an intelligent and useful manner. We are providing members and users with helpful tools and resources that are not supplied anywhere else.
###