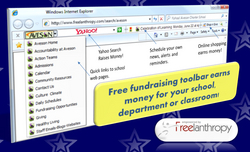 Charities and donors alike will benefit from this true win-win addition to our platform
La Canada, CA (PRWEB) September 16, 2009
Freelanthropy.com, a leading provider of innovative free fundraising and branding tools for the nonprofit community, today announced a partnership with Click & Pledge to power a new browser toolbar and web-search service for the Click & Pledge platform. The new tools empower donors to increase their giving for free simply by searching the web. Featuring Yahoo Search and premium online merchants, the free fundraising toolbar and web search service is now offered to nonprofit organizations using the Click & Pledge online donation system.
"Working with Freelanthropy, we're excited to roll out this new feature to the more than 6,000 qualified charities using the Click & Pledge online donation system. Especially in the face of declining donation revenues for nonprofits, we believe it's critical to enhance the value of our products and services by offering customers easy and smart new ways to generate revenue," said Click & Pledge president, Dr. Kamran Razvan.
With the addition of Freelanthropy's donor toolbar and fundraising web-search service to the Click & Pledge Trio offering, each donor interaction now provides more earning potential for the participating charity. "Charities and donors alike will benefit from this true win-win addition to our platform," continued Dr. Razvan. "Without any additional cost to either the organization or the supporter, donors can now help a worthy cause just by doing something they do many times each day - using a web search engine."
"It's exciting to be able to offer our powerful fundraising tools to the thousands of nonprofits that are using Click & Pledge's platform," said Freelanthropy.com president, Dan Sheehy. "This partnership is another step in fulfilling what believe to be a fairly simple mission: to enable supporters to give more to the organizations they care about just by searching the web or shopping online. With an appreciation for the budget constraints of most nonprofit organizations, and as our name clearly suggests, it's important that our services are free and simple for donors and charities alike, perhaps especially in the current economic climate," said Sheehy.
Dr. Razvan added, "The Trio solution provides great value for nonprofit organizations. With just a minimal set up fee, nonprofits are able to keep costs down and concentrate their efforts on fulfilling their mission. Adding the new Freelanthropy toolbar and search features to our platform, Click & Pledge is providing a no cost way for every donor interaction to now bring an incremental long-term revenue stream for our customers."
About Click & Pledge:
The Company provides software-as-a-service to enable nonprofits and similar organizations to be effective and efficient in online fundraising. Located in Blacksburg, VA, the Company serves over 9,000 customers in 45 countries. To find out more, call (540) 961-9811 or visit http://www.ClickandPledge.com.
About Freelanthropy:
Freelanthropy, LLC. is an online services provider of innovative fundraising, communications and branding solutions for a wide variety of nonprofit organizations including schools, churches, shelters, clubs, trade organizations and more. Schools, churches, shelters and virtually any nonprofit organization interested in applying for Freelanthropy's free services can visit http://freelanthropy.com/apply. For more info contact Freelanthropy at 626-771-3556.
###