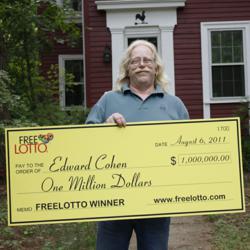 My feet haven't touched the ground since I received the results mail
New York, NY (PRWEB) August 17, 2011
57 year-old electronics technician Edward Cohen of Wallingford, Connecticut celebrated a $1,000,000.00 win this past Saturday, August 6th when the FreeLotto® Prize Team arrived at his door with a very big check. His wife of 31 years, Joan, their two adult children, and a small group of friends were there to share in the excitement. Cohen won the jackpot prize playing FreeLotto.com®, a lottery-style sweepstakes website that offers players six daily chances to win over $11,000,000.00 for free. Cohen joined FreeLotto® on October 1, 2005, discovering it by chance while searching for online sweepstakes. Over the years, he's won a handful of small prizes from FreeLotto® and this is his first jackpot win.
Cohen became FreeLotto's 21st winner of $1,000,000.00 or more, joining the roster of FreeLotto® millionaires around the world that includes Eric Prevost from Calvados, France; M.K. Basha from Delhi, India; Alejandro Llano from Mexico City, Mexico; and William Harriot from Glasgow, Scotland. Cohen's million dollar win brings FreeLotto's total awarded prizes to over $91 million.
When asked how the win would change his life, Cohen told the Prize Team at FreeLotto® that he would be able to pay off his debts and begin taking annual vacations. It also affords him the opportunity to contemplate an earlier retirement date.
About FreeLotto.com®
Freelotto.com® is the largest lottery-style sweepstakes website. Since 1999, FreeLotto® has awarded over $91 million in cash and prizes to lucky winners worldwide. FreeLotto® is advertising supported and offers its players 6 daily chances to win cash prizes with the following games: $1 Million FreeLotto® Classic, $10K Fast Cash, $100K Pay Off Your Mortgage, $50K Win A Car, $100K Giveaway, $10 Million FreeLotto® Superbucks. No purchase is necessary to join FreeLotto® and playing is free by logging onto http://www.freelotto.com. Once there, players will select their lucky numbers on a gameboard and then click an advertising banner to submit their bet for each game for free. To play visit: http://www.FreeLotto.com.
###