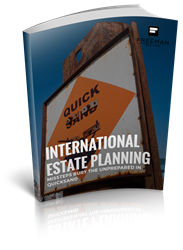 International estate planning tax rules and requirements, like quicksand, are constantly shifting
Detroit, MI (PRWEB) October 17, 2016
Freeman Tax Law, a tax law firm specializing in offshore tax issues and international wealth and estate planning, recently released an International Estate Planning eBook. The eBook explores and explains some of the most common mistakes that people make in regards to their foreign assets and estate planning.
"International estate planning tax rules and requirements, like quicksand, are constantly shifting—requiring legal, tax, and financial specialists to be diligent about evolving regulations and ways to maximize estate value while minimizing often weighty taxes," says Jeffrey Freeman, the founder of Freeman Tax Law. "This eBook examines many of the issues and traps that people with international assets encounters."
The eBook is a part of a series of content created by Freeman Tax Law that teaches crucial and need-to-know information about the most common foreign tax and wealth planning issues that U.S. citizens and residents face.
The eBook can be downloaded for free through Freeman Tax Law's website at:
https://www.freemantaxlaw.com/international-estate-planning-ebook
To learn more about Freeman Tax Law and their comprehensive wealth management services, please visit:
https://www.freemantaxlaw.com/wealth-management
About Freeman Tax Law:
Freeman Tax Law is a proven international tax law firm with particular focuses in analyzing difficult wealth management problems, IRS collections issues, and foreign bank account reporting. Through careful planning, negotiation, and execution, Freeman Tax Law has an excellent record of meeting and exceeding expected outcomes for their clients, and utilizes a team-based approach to cases through a multi-disciplinary defense team.