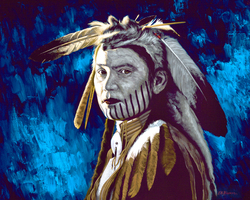 Art Alliance Gallery - Fine Art
Scottsdale, AZ (Vocus) November 29, 2010
The big awards for Kenneth M. Freeman chronicle the importance of this Scottsdale, AZ-based artist. For artist Kenneth M. Freeman, the cowboy hat and boots was not a gimmick or shtick. Neither was his Arizona attitude. Ken Freeman may have grown up in a traditional Jewish home in Chicago, Illinois but make no mistake … he was a cowboy.
In April 2006, Kenneth M. Freeman was the featured artist for the Art Alliance Art Show that was held at the Scottsdale Civic Center. Now on December 4, 2010, Freeman comes full circle with an award presentation during the Holiday Artist Reception held at the "Art Alliance Gallery - Fine Art" located at the Scottsdale Pavilions Shopping Center.
John Fontana, founder and chairman of the board for the Arizona Art Alliance spoke recently about Freeman.
"Most of our members are emerging artists," reflected Fontana. "Having a successful artist, with a recognizable name that Ken Freeman had, set an example through his talent and quality of work. It was good for our membership. Ken was always generous with his time and advice, sharing his experience with members of the Art Alliance. He had a wonderful wry sense of humor, a larger-than-life persona, and was very proud to be called a Jewish Cowboy."
"Ken painted each piece three times, said Bonnie Adams, the curator of The Kenneth M. Freeman Legacy. "First Ken sketched on the canvas or board with pencil and then did a full value, burnt umber painting where he worked out all the values and final composition. When the burnt umber was dry, he laid down the color."
Adams adds, "This was the style of the old masters and members of the press dubbed Ken Freeman The Rembrandt of the Rodeo."
Ken was a graduate of the American Academy of Art in Chicago (http://www.aaart.edu). He began taking classes at the American Academy of Art in the summer of 1950 at the age of 15. He won a scholarship to the school from the Latham Foundation. He studied with renowned artist Haddon Sundblom.
"He was a man you could never forget. His enthusiasm for life and art was contagious. Of all the artists from the Academy I've met over the years, Ken really stood out as one of a kind," said Aron Gagliardo of the American Academy of Art.
"Ken's old masters' technique was very time consuming but the outcome is extraordinary. It is the only way to achieve the depth of colors and warm layers of content that will pass the test of time. This painting technique will last for hundreds of years," said Edward Holmes, president of Western Artists of America whose organization presented Freeman with a Lifetime Achievement Award, hereafter named the Freeman Lifetime Achievement Award.
Save the Date:
Date: December 4, 2010
Time: 6-9 PM … Presentation of Award 8 PM
The Arizona Art Alliance Gallery
The Scottsdale Pavilions
9011 E. Indian Bend, Suite E-1 (next to Sports Authority), Scottsdale, AZ
Contact: 602.503.1686
Recent Kenneth M. Freeman Awards of Excellence:

Lifetime Achievement Award from Western Artists of America (Jan. 2010)
Western Heritage Award from Parada del Sol Rodeo (March 2010)
Cowboy Spirit Award from the National Festival of the West (March 2010)
Special Award from the World's Oldest Rodeo – Prescott, AZ (July 2010)
Arizona Art Alliance Lifetime Achievement Award – Scottsdale, AZ (December 2010)
Kenneth M. Freeman Legacy Museum Exhibition Schedule:
Two collections are traveling retrospectives of the late Kenneth M. Freeman (1935 - 2008) who had a prolific career as both an illustrator and fine artist, primarily portraying the American West. Artist at Work and Portraits of the West present a cross-section of Freeman's lifetime body of work and range of mediums. In 2010, the exhibitions have been shown at The Booth Museum, a Smithsonian Affiliate Museum, and at The Phippen Museum in Prescott, AZ.
CURRENT EXHIBITIONS: A selection from Artist At Work can now be seen at Wickenburg, AZ's Desert Caballeros Western Museum through February 2011. Another selection of Freeman masterpieces will be on display at The Pearce Museum in Corsicana, TX in January/February 2011 with the 7th Annual Show and Sale of Western Artists of America.
About Kenneth M. Freeman
http://www.kennethmfreeman.com
About the Arizona Art Alliance
The Arizona Art Alliance…Enriching Life Through Art
The Arizona Art Alliance is a non-profit organization of over 4,500 artists from more than 31 statewide art groups. Founded in 2000, the Alliance is committed to the promotion and appreciation of fine art and the enrichment that art brings to the community. As part of its community enrichment commitments, the Alliance sponsors community outreach programs such as: Caring Through Art: a joint effort with Desert Sage Artists, this art education program benefits disabled seniors and Alzheimer residents at Life Care of Paradise Valley; Kids Count: A Special Education Alternative Art program for the physically and mentally challenged students at all grade levels at the Cave Creek Unified School District; and Spirit of Art: Partnering with Paradise Valley Artists League adopted the Valley of the Sun School to provide funding for art supplies for the school. Operating as a 501 (c) (3) non-profit, the Alliance is made possible through annual membership dues and generous corporate, private and state donations. For more information about the Arizona Art Alliance, visit http://www.azartalliance.com or call 602.503.1686.
# # #