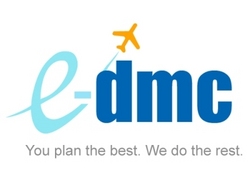 No more fine print, no more confusing terms and conditions… We want clarity and transparency from here on out.
Orange County, CA (PRWEB) July 7, 2009
e-destinACCESS, Inc. (E-DA), a small Orange County, Calif.-based technology company debuts e-dmc.com, a fee-free web-based software offered to individual FIT or corporate meeting and event planners. e-dmc.com is modeled after a full-service DMC (destination management company), to help reconcile the struggle among production support within the meeting industry, spending responsibility, and business policy transparency. With the current struggling economic conditions, e-dmc.com is an example of a small company determined to provide a tremendous solution.
e-dmc.com's patent pending technology will directly connect planners and suppliers, with no hidden fees or markups, thereby removing middle-men costs. In addition, e-dmc.com will provide the tools needed to automate procedures within the meeting and event planning business, automate arrivals and departures scheduling, and contain a growing rich menu of venues, events, & activities. This technology can save meeting planners as much as 50% of their budget and as much as 75% of their manpower hours. This significant savings will help for production support within the meeting industry as it affords participants to keep meeting.
Incentive trips, meetings and events account for 15% of all travel spending, which creates 2.4 million jobs, $240 billion in spending and $39 billion in tax revenue, according to the U.S. Travel Association.
"These numbers are significant," reads a statement from Wayne W. Beaubien, Chief Software Architect and CEO of E-DA. "It is evident that the meeting industry is a major contributor to our economy, however, in times like this, it is important to help keep the economy alive and still be responsible by preventing abuse and offering the tools necessary to do so. The potential loss of 2.4 million jobs would be catastrophic to the US economy. That is the significance of e-dmc.com, to provide the tools to boost the meeting industry, provide business procedure transparency, while being financially responsible."
"No more fine print, no more confusing terms and conditions… We want clarity and transparency from here on out." Beaubien repeats from a statement from President Obama concerning the need for reformed business practices. "e-dmc.com is here just in time to address some of the major business and economical concerns - clarity and transparency," says Beaubien. "Consumers can be confident that by using e-dmc.com, there will be no hidden fees, no markups, and no middlemen."
During these trying economic times, focus on conflict with larger corporations should be shifted towards supporting solutions offered by companies especially the small ones, such as e-dmc.com, that are rendering a significant effort to making a positive change. "Now is the time for small businesses to shine, companies like e-dmc.com are simply not receiving the kind of recognition deserved to them in order to make a significant positive impact on our economy." says Beaubien. "We (E-DA) firmly believe that by introducing our free service, e-dmc.com, we can truly provide a tool within the hospitality and meeting planning business to help rejuvenate the economy and cut excess spending."
About e-destinACCESS (E-DA):
Founded in 2007, e-destinACCESS.com is a destination services technology company specializing in meeting and event planning software within the hospitality industry, whose products are being used in major hotels across the nation. Headed by DMC Veteran CEO and Chief Software Architect, Wayne W. Beaubien and Chief Operations Officer, Anita M. Beaubien, Esq., the company's mission statement reads "Our current mission is to follow a classic evolutionary path in business by squeezing out unnecessary middlemen costs, thereby positively impacting the spend in local economies. Our products will enhance the Meeting Professional's businesses by providing supporting technology that automates and streamlines processes without sacrificing customer service, resulting in a financially enhanced local economy".
By creating the first products, remotely accessed desktop applications, destin® and e-guestACCESS™, E-DA has created the foundation for a globally accessible SaaS, e-dmc.com.
###