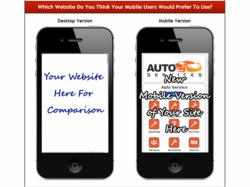 (PRWEB) January 24, 2013
The iPhone 5, Galaxy S3, and other mobile devices are increasingly popular and this mobile trend is far from over. Customers are taking the internet with them anywhere they go. It is easy and fast to access the internet on mobile phones, smartphones or tablets than to use regular laptops or PCs. Lots of people are expected to use their mobile devices when searching for pertinent information online this 2013. There are a number of mobile-optimized services available that are specially designed to help businesses answer the needs of its customers. A business with a non-mobile-optimized website may lose customers and leads since a non-mobile-optimized site is hard to navigate on mobile devices. Free mobile website audit and mock-up are now offered by Padebuen.com Web Services for small businesses.
Go to http://padebuen.com/mobile-website-mock-up for a no-obligation mobile website mock-up.
Over 57% of all mobile users won't recommend a company with a low-quality mobile website. Over 40% of mobile users have turned to other businesses that had a proper optimized mobile website. This information is available here: themobileplaybook.com/en-us/#/2_1. Business that want to smooth out the process of connecting with their potential customers need to realize that they need to remove any obstacles that might stand in the way. One of these obstacles is a poorly-designed mobile website, or worst, no mobile version at all.
In the U.S., about 28.5% of all searches are conducted from mobile devices. Mobile internet usage is expected to overtake desktop online usage by 2014. More information regarding mobile traffic statistics can be found at ecommerceblog.mightymerchant.com/10-surprising-facts-about-mobile-usage. Businesses that neglect this aspect of mobile websites can lose a lot of customers and can't keep up with the trend.
It is important to stay on top of today's market trends and to play it safe when it comes to customer satisfaction. Padebuen now offers small businesses with mobile website audits and mock-ups at no cost.
To get a mobile-optimized website for mobile phones like iPhone 5, Galaxy S3, and other mobile devices, go to http://padebuen.com/mobile-website-mock-up for a free mobile website mock-up.