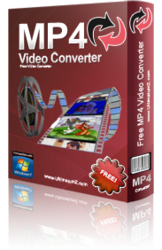 (PRWEB) December 14, 2012
UltimatumZ.com, a popular online software platform, now introduces its MP4 converter. This tool will help the users to convert video files to MP4 format.
According to a spokesperson of UltimatumZ.com, the reason why they have included this software is because most media players and smartphones are compatible with the MP4 format. He said, "Whether you use an Android mobile or an iPhone, iPad or iPod, every device is compatible with MP4 format. The scenario is same with the other devices such as PSP, PS3, Apple TV, iRiver PMP, Zune, etc.. Therefore, we thought it was essential to provide our followers with a competent MP4 converter, and thus we have made this software available."
The spokesperson also revealed that the latest MP4 converter had no watermark or limitation of time. It is possible to control the size and quality of output just using a slider. They also claim that the product is different from the other available options because of its simple user interface. One can perform a conversion in a batch, which means numerous videos can be converted into MP4 at once.
An expert reviewer at UltimatumZ.com says, "The product is very useful and has simple requirements for conversion. It is compatible with Windows 7, and the system requirements are 1GHz Intel or AMD processor. RAM, and hard disk requirements are 256MB and 100MB respectively. In addition to that, the other necessities to use the software includes 16-bit or higher graphics card, DVD-ROM drive, Windows Media Player 9.0 and QuickTime Player 6.0."
The team of UltimateumZ.com believes that the demand of this MP4 converter will increase because most of the latest gadgets support the MP4 video format. Furthermore, people can get video files from any source or format and convert into MP4 using the software.
Ricky De'Souza, a music enthusiast says, "I am a musician, and I keep on collecting varied video files from world music. I cannot always get MP4 files and thus having a converter like this is going to help me a lot. Thanks UltimatumZ for including this MP4 converter."
About the Company- UltimatumZ.com is an online source that offers varied software tools. It mainly provides media file converters. Its latest offering is MP4 converter software. To know more about this software and other tools available at UltimatumZ.com, visit their website at http://www.ultimatumz.com