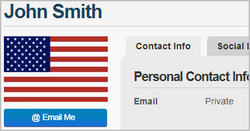 With only your name, everyone can easily find and email you – a unique free internet service.
Los Angeles, CA (PRWEB) January 19, 2010
A free address book listing in WikiWorldBook.com "The Global Address Book" enables users to store and manage all their contact information on their own search engine optimized web page without the need for their own website.
It also enables them to be found and contacted by email within three clicks of a Google search of their name – without them even having to reveal their contact details and without the person contacting them having to register. This is primarily achieved through a simple customizable "profile page" which can contain as little of the user's contact details as their name, nationality and gender. Messages go directly to their regular email service, so they don't have to return to the site to pick them up. This Visual Guide gives a detailed list of the address book's easy to use features.
Alternatively, users may want to display their full range of contact details to provide the people looking for them with the means of contact that best suits them. All users' address book pages are highly search engine optimized to ensure that they rank well in Google's results on a search for the user's name, including "vanity urls" that contain the user's name.
Users can differentiate between their personal and work contact details and use the structured format to add photos, building addresses, telephone numbers, websites, IM & VOIP links, social media and social profile links and well as add their own biographies and interests. All the user's email, IM and VOIP services are hyperlinked so they immediately launch the appropriate service on the visitor's device with one click. Users can add their social links to drive traffic to their other web properties and increase their authority with the search engines.
The address book provides a compelling free alternative to Telnic's dot tel (.tel) domains which are subject to an annual domain name charge. Examples of each company's products can be compared here – a John Smith profile on WikiWorldBook and a dot tel Telnic domain. Whilst Telnic's underlying technology is undoubtedly more superior – being hosted directly on the DNS (the backbone of the internet) rather than on a normal web server, which provides for more rapid page loading – users have a clear choice to make over paying an annual recurring charge indefinitely or getting a reliable service for free.
Users control all their own information as they can delete their address book listing and all their information in a matter of seconds from their own control panel. A full range of Privacy Controls gives the user complete control over individual entries, so that they can share their information with people that they choose. Users are indexed quickly by Google and generally appear in their search results within a few days, whilst a powerful proprietary spam filter ensures that spam is negligible or non-existent. Many users will find this innovative address book as the solution to managing their online identity.
The WikiWorldBook address book is truly global with users from over 150 countries already currently registered in its Global Address Book. Based on current visitor conversion rates, the company anticipates that its global target market is around 15 million registered users, which might rise as brand awareness increases.
Many users will also find the optional Search Alert useful. This can notify them by email when they have been Googled and provides them with the searcher's geographical location and IP address. If the user has been Googled by a company or organization, then more often than not the company or organization can be fully identified by name – making it an invaluable tool for small business people and job seekers. If the searcher is a company or organization, rather than an individual, then more often than not they can be identified.
Without needing to build, host or manage their own website, users can:-

Join an online global address book that provides them with immediate worldwide exposure.
Be found and contacted by email within 3 clicks of a Google search of their name – without having to reveal their email address and without the person contacting them having to register themselves.
Provide a fast way for people to connect with them in a single click from any mobile device
Display all their means of communication in one place under their control.
Update and manage their contact information in real time.
Promote their own business and web properties online and increase their traffic, authority and search engine visibility.
Who does it appeal to?
Online address book services appeal to a broad spectrum of people –
People wanting to stay or get back in touch with old friends and family.
Professionals who want to be easily found and connected with clients.
Small business owners & entrepreneurs who want to promote themselves and their business.
Job seekers who want to control their online reputation and demonstrate their aptitude with the internet. The majority of Human Resources departments now carry out internet due diligence on prospective candidates.
People who are happy being listed in their national telephone directory.
People who are interested in genealogy or similar subjects who want to rapidly share knowledge and ideas online with people they do not know.
People who want to promote their own web presence.
WikiWorldBook is a private limited company. The service it offers is solely a low maintenance address book service and not a social network. Users are not subject to the usual deluge of social network notifications (like "request to connect" emails, update emails, spam or new applications) and the service restricts itself to a quarterly service email update.
###