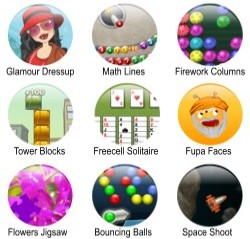 My Two Daughters and I love to spend quality time playing Dressup Games on Fupa.com - Lars Mapstead President
Santa Cruz, CA (Vocus/PRWEB) April 14, 2011
Fupa today announced the addition of 100 new games on it's free online gaming site including cheerleader themed Dressup Games Cheerleader Olivia, Cheerleader Hannah and Cheerleader Madison.
Online Dress-Up games are experiencing global success and it's no wonder. According to recent statistics, 42% of all gamers are female, girls and women, finding entertainment through practicing fashion and style while mixing and matching outfits, colors and accessories. Fupa recognizes that girls and women are an important market and has found success with its Caribbean Fashion Swimsuit, Dress-Up the World and Glamour Dress-Up Supreme games.
With more than 48,000 free multi-player, classic arcade and board games, kids, sports, flash, action and puzzle games Fupa has one of the largest collections of games on the web with 100,000 daily users. The launch is part of Fupa's on-going commitment to offer free gaming experiences to players of all ages and gender while enhancing each users overall experience. Fupa's Cheerleader series allows players to dress up their cheerleader in school colors with different uniforms and a variety of shirts, skirts, shoes, hair styles, and skin tones for the best school spirit in town.
"My Two Daughters and I love to spend quality time playing dressup Games on Fupa.com", Says Lars Mapstead President of Fupa Games Inc.
About Fupa Games Inc.
Fupa, headquartered in Santa Cruz, California is a casual social video game developer with more than Three million monthly active users playing their games. There are fifteen different categories of free online games! Each of the categories is loaded with hundreds and thousands of Girl Games, puzzle games, dressup games, strategy games, sports games, action games, adventure games, flash games and many more. Our over fifty thousand games makes Fupa Games one of the largest sources of free internet games! Fupa games are available on several platforms including the Web, Facebook and Android. For more information, visit Fupa Games
###