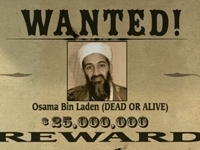 Where in the World is Osama Bin Laden
Roslyn, NY (Vocus) September 8, 2010
Festival-Of-Films, a new website offering free access to online movies, will present one featured film every month. This month's film is "Where in the World is Osama Bin Laden," directed by Morgan Spurlock of "Supersize Me" fame.
The information Spurlock uncovers will astonish just about anyone who has managed to get through the years since Sept. 11, 2001. This film is particularly relevant today, considering the ongoing debate surrounding the Ground Zero Mosque.
At the beginning of "Where in the World" Spurlock discovers that he is about to become a father. In order to make the world a safer place for his unborn child Spurlock decides to track down Osama Bin Laden. But before he can do so, he must first learn about the world's most wanted man, where he came from, and what makes him tick. His journey takes him throughout the Middle East, where he interviews people about Bin Laden, Islamic fundamentalism, and the war on terror.
Founded by two technology industry veterans, Tom Dolan and Andy Schupak, Festival of Films is a grassroots effort, evolving from the ground up, with the goal of building an online community for movie lovers.
For more information, visit http://www.festival-of-films.com .
# # #