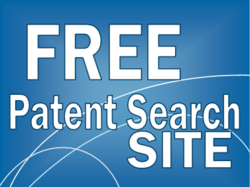 "Streamline your patent research"
Sacramento, California (PRWEB) August 27, 2012
Today, Pantros IP launched a free patent search website, http://www.FreePatentSearchSite.com, that offers, exactly as its name implies, an entirely free patent search. This website provides easy access to US patents with no cost to the user.
"This new patent search tool provides instantaneous results and allows users to identify and examine hundreds of thousands of patents," said Colleen Henderson, Chief Executive Officer. "This will streamline your patent research and allow you to review the critical data required to increase your due diligence practices while minimizing your time invested in the process."
Fueled by the extensive high quality patent database of Pantros IP and the desire to fulfill the need left by other competitors in the field, FreePatentSearchSite.com has an easy to understand interface that makes a keyword-based patent search simple and straightforward. This is a remarkable tool that can be used across multiple industries.
Pantros IP has also integrated some advanced features for user convenience and exploration that can add value to patent searching. For example, when interfacing with the advanced features page, the user has the option of searching by legal status. This permits the user to identify both enforceable and unenforceable patents, which other patent search engines do not offer. This can save the user a great deal of time in their patent research and that can translate into saving money at all levels.
The FreePatentSearchSite.com website is part of an ongoing development campaign to add value and streamline Pantros IP patent tools and services that are used around the globe for patent due diligence. With the recent patent wars that have been raging throughout the globe, it has become increasingly clear that managing your patent portfolio has taken center stage in the fight to capture the technology necessary for R&D to retain their competitive edge and litigate infringement.
For more information please contact:
Tracy Smith, Public Relations
Pantros IP
+1 916 239 2500
About Pantros IP
Pantros IP is an innovation leader, continually announcing new lines of proprietary software modules (patents pending) that help legal, business, and government professionals search, manage, mine, exploit, analyze, and develop patents and portfolios, including private corporate portfolio management, industry analysis, competitive patent intelligence, and unparalleled patent informatics. For over 12 years, Pantros IP has served as the global leader in semantic technology with a wide range of services encompassing enterprise IP and portfolio management software, online patent analytics, and an international patent database.
Pantros IP understands patents at a world-class level and is most recognized for their innovative approach to the integration of Latent Semantic Analysis and advanced linguistics patent search technology. The LSA patent search technology developed by Pantros IP has revolutionized patent research by saving customers up to 40% of the time and costs associated with using other patent management tools, while significantly increasing the quality of their patents.
Its customers range from Fortune 100 companies and government research labs, to boutique patent law firms and intellectual property consultancies.
To experience FreePatentSearchSite for yourself, please visit http://www.FreePatentSearchSite.com or contact a representative at Pantros IP by visiting http://www.PantrosIP.com and clicking on Contact.
Pantros IP
3835 North Freeway Blvd. Suite 130
Sacramento, California 95834
+1 916 239 2500
http://www.pantrosip.com