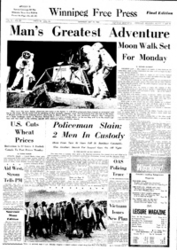 Heritage Microfilm and NewspaperArchive has set the standard for archive content preservation, and now anyone can access the Winnipeg Free Press online
Cedar Rapids, Iowa (PRWEB) March 14, 2009
The Winnipeg Free Press, the oldest newspaper in western Canada, has partnered with Cedar Rapids-based Heritage Microfilm and NewspaperARCHIVE to digitize and make available the entire Winnipeg Free Press newspaper archives. This partnership, part of the Heritage Microfilm international initiative, gives consumers around the world access to years of historic newspaper content that has never been available.
"Heritage Microfilm and NewspaperArchive has set the standard for archive content preservation, and now anyone can access the Winnipeg Free Press online," said Paxton Ruff, Publisher Relations Manager for Heritage Microfilm. "Prior to this partnership, the only way to reach the history of the Free Press was through the medium of microfilm - great for preservation, but difficult to search through."
"The Heritage Microfilm solution has found success in meeting both ends of the newspaper archive spectrum from setting the standard in preservation for publishers and offering online search capabilities for any reader," continued Paxton.
The Winnipeg Digital Archive can be found here. The website holds more than two million digitized newspaper pages, covering all Free Press content from 1874 to 2009. Pages will be added to the archive on a continual basis.
The archive was created by digitizing microfilm images from the Winnipeg Free Press archives, and is fully text-searchable.
"This has been quite a formidable project for the Free Press - the better part of a year to digitize almost our entire history of about 2.2 million pages and to create a user-friendly website with our partners, NewspaperARCHIVE," said John Sullivan, Manager of Online Research and Development for the Winnipeg Free Press. "But it's been well worth it - we think the Free Press Archives website will provide a way for Manitobans to explore their own personal and family background. We think personal memories will guide many of the page searches that people will do."
Newspapers interested in full-page archives of their historic content should contact Paxton Ruff at 888-870-0484 ext. 35.
About Heritage Microfilm
Heritage Microfilm, Inc., of Cedar Rapids, Iowa, is a major archival microfilm and digitization company. Heritage Microfilm was founded in 1996 and quickly became one of the premier newspaper preservation vendors in North America. They are currently trusted with the preservation microfilming of more than 600 North American newspaper titles, as well as several international ones. Publishers or librarians interested in more information about Heritage Microfilm can visit Heritage Microfilm.
About NewspaperARCHIVE.com
In 1999, Heritage Microfilm launched the brand NewspaperARCHIVE.com, the world's largest historical newspaper database online. NewspaperARCHIVE.com contains tens of millions of newspaper pages from 1759 to present, spanning almost 3,000 newspaper titles and 762 cities. Every newspaper in the archive is fully searchable by keyword and date making it easy to quickly explore historical content. Anyone interested in finding more information about Heritage Microfilm and NewspaperARCHIVE.com can visit NewspaperARCHIVE.
About the Winnipeg Free Press
From the day the first edition rolled off the presses in 1872, the Free Press has been an integral part of the city and province it serves. The newspaper is just two years younger than the province of Manitoba, which joined Confederation in 1870, and actually two years older than the City of Winnipeg, which was incorporated in 1874. From its inception, the Free Press has faithfully recording the rise of a muddy Prairie settlement at the forks of the Red and Assiniboine Rivers into one of Canada's leading cities and the capital of a thriving province of more than one million people.
###