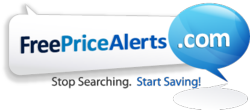 Now that millions of moms have read 'Fifty Shades of Grey' she may be trying to bring out dad's inner Christian Grey.
PETERBOROUGH, NH (PRWEB) June 13, 2012
Apparently mom wants dad to clean up his act this year for Father's Day. According to FreePriceAlerts.com he's getting some self help love as "I Suck at Girls," "Wine Country Cooking," cologne, and fitness training equipment top the list of online sales over the past seven days.
Now that millions of moms have read "Fifty Shades of Grey" she may be trying to bring out dad's inner Christian Grey.
"According to our online buying trends two books, 'I Suck at Girls' and 'Wine Country Cooking,' have surged over the past week and are at the top of the list," said FreePriceAlerts.com CEO Bob Wilkins. "Add a splash of Calvin Klein cologne, a little personal training, and romantic music from dad's new Sony speakers, and it appears that mom might have plans for dad."
According to FreePriceAlerts.com, here are the top 10 gifts that dad can expect for Father's Day:
1. "I Suck at Girls" by Justin Halpern
2. "Wine Country Cooking"
3. "Ck In2U" by Calvin Klein for Men, Eau De Toilette Spray
4. Andis Professional 04710 T-Outliner Personal Trimmer
5. Sony SRS-A3 External PC Speakers
6. "Just A Drop" - The Natural Toilet Odor Neutralizer
7. "Poop Bag Shop" Biodegradable Dog Waste Bags
8. Club Glove Last Bag
9. Sony BDP-S590 3D Blu-ray Disc Player with Wi-Fi
10. TrustFire Super Bright 3800 Lumens 3 x CREE XM-L T6 LED Flashlight Torch
Hot places to shop online. These websites have seen a 50 percent jump in sales over the last seven days.

Amazon.com
QVC.com
ShopNBC.com
JCPenney.com
Crutchfield.com
3Balls.com
"Sorry dad, it looks like Father's Day won't be spent on the golf course," Wilkins added. A golf glove is the only golf item to crack the list.
# # #
Background:
New Hampshire-based FreePriceAlerts.com is an automatic price search engine designed to instantly notify online shoppers—via PC, smartphone, or tablet—of the lowest price for the products they're shopping for.
The free service is extremely easy to use and also can measure purchasing and pricing trends. People are using it to find better pricing on everything from diapers to DVD players.
Unlike anything else available, the FreePriceAlerts.com app downloads to any browser and when shopping online it automatically searches and confirms when the lowest price has been found.
There are additional ways to save money through FreePriceAlerts.com, including saving searches, setting price alerts, and letting shoppers know when it's available at their price. There's also a FreePriceAlerts.com mobile app for iPhones and iPads (Android and Blackberry coming soon) and a one-of-a-kind bookmarklet for the iPad Safari browser.
To date, FreePriceAlerts.com has saved consumers an average of over $26 per online purchase, totaling nearly $35m – $25m of that since November alone.
Robert Wilkins has started five companies during his career and also spent 11 years as executive vice president of PC Connection. Much of his industry experience has involved the reseller industry and technology, which are both key components of FreePriceAlerts.com. Because of its uniqueness, unobtrusiveness, ease of use, and ability to instantly save money for consumers, he decided to roll out FreePriceAlerts.com as a stand-alone product.