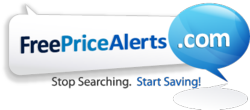 Peterborough, NH (PRWEB) May 11, 2012
It appears that Dad has romance in mind for Mom this Mother's Day. Lingerie, organic soap, and a bestselling romantic novel top the list of online sales over the past 10 days according to FreePriceAlerts.com.
Flowers and candy notwithstanding, here are the top 10 gifts that Mom can expect for Mother's Day:
1. Black lingerie
2. Organic soap bars and salt crystals
3. Point and shoot cameras
4. Fifty Shades of Grey by E.L. James
5. Women's watches (The Timex Women's T20451 Gold Stainless-Steel Quartz Watch with White Dial is the top seller)
6. Women's golf club sets
7. Women's outdoor hiking ware
8. Sunglasses
9. iPad cases
10. "Sorry Mom, looks like pots and pans are a hot item this year also," FreePriceAlerts.com CEO Bob Wilkins said. Rachael Ray cookware is leading the way.
Hot places to shop online. These websites have seen a 50 percent jump in sales over the last 10 days.

JC Penney (jcpenney.com)
MooseJaw (moosejaw.com)
3 Balls golf (3balls.com)
Oakley (oakley.com)
Kmart (kmart.com)
PC Mall (pcmall.com)
Target (target.com)
According to FreePriceAlerts.com CEO Bob Wilkins, recent online sales of black lingerie have skyrocketed, even surpassing Valentine's Day. The best selling romantic novel, Fifty Shades of Grey has also seen a sales spike.
"With Fifty Shades of Grey, we're not sure if this is Mom shopping for Mom," Wilkins said. "Or if it's Dad buying the book and wrapping it with the lingerie they bought online from JC Penney or Target."
Other gifts include women's watches, sets of women's golf clubs, and iPad cases—sales of which Wilkins said are far higher than iPad sales.
Wilkins added that a number of online retailers like Kmart and Target have seen at least a 50 percent increase in online sales over the past 10 days but, JC Penney has seen the largest increase as traffic to jcpenney.com increased by over 300 percent.
Background:
New Hampshire-based FreePriceAlerts.com is an automatic price search engine designed to instantly notify online shoppers—via PC, smartphone, or tablet—of the lowest price for the products they're shopping for.
The free service is extremely easy to use and also can measure purchasing and pricing trends. People are using it to find better pricing on everything from diapers to DVD players.
Unlike anything else available, the FreePriceAlerts.com app downloads to any browser and when shopping online it automatically searches and confirms when the lowest price has been found.
There are additional ways to save money through FreePriceAlerts.com, including saving searches, setting price alerts, and letting shoppers know when it's available at their price. There's also a FreePriceAlerts.com mobile app for iPhones and iPads (Android and Blackberry coming soon) and a one-of-a-kind bookmarklet for the iPad Safari browser.
To date, FreePriceAlerts.com has saved consumers an average of over $26 per online purchase, totaling nearly $32m -- $22m of that since November alone.
Robert Wilkins has started five companies during his career and also spent 11 years as executive vice president of PC Connection. Much of his industry experience has involved the reseller industry and technology, which are both key components of FreePriceAlerts.com. Because of its uniqueness, unobtrusiveness, ease of use, and ability to instantly save money for consumers, he decided to roll out FreePriceAlerts.com as a stand-alone product.