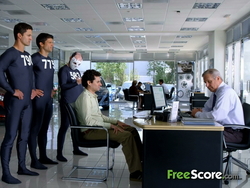 Norwalk, CT (PRWEB) August 2, 2010
FreeScore.com, a leading online consumer site, providing consumers with affordable, unlimited access to all three of their credit scores and complete credit profile, announced it will debut a new advertising campaign today featuring a commercial with "The Three Score Guys." The new campaign is in addition to commercials featuring actor, economist, and lawyer, Ben Stein.
The new "Three Score Guys" campaign highlights FreeScore.com's main strength: providing consumers immediate access to all three credit scores from Experian, TransUnion and Equifax. Thus, the fun and playful "Three Score Guys," wearing black leotard-type suits sporting a credit score, appear in the commercial in the midst of a consumer obtaining a car loan. The commercial points out that one bad score can potentially ruin any consumer's ability to obtain a loan.
The campaign, created by Dailey & Associates of Los Angeles, is in direct response to the May 2010 Credit Score Awareness Survey of 1,000 U.S. consumers where 57% of consumers did not realize that they have three major credit scores, essential to understanding their complete credit profile.
According to Phil Sandler, Vice President of Marketing of FreeScore.com, "This campaign is fun, tells a story, and reminds people that checking one score is not enough. Every person needs to know that he or she has three credit scores from the three major bureaus and that checking and monitoring scores is essential. One bad score can affect a person's loan prospects and raise the cost of borrowing money. We think that Dailey did a great job of capturing our key consumer advantage in a memorable way."
Bruce Miller, CEO of Dailey said, "It's great to have the opportunity to help a leader like FreeScore.com continue to grow the credit monitoring industry. It is critical for consumers to realize that they have easy-to-use, affordable access to their credit scores and profile. Reaching as many consumers in need as possible is important during these times of tight credit."
Sandler noted that the Ben Stein campaign successfully established the FreeScore.com as a leading credit score site and will continue to run. "We're thrilled that since our launch, over 750,000 people have signed up for FreeScore and our brand recognition has grown considerably.
According to Ben Stein, "I have been delighted that our initial campaign has established FreeScore.com and has especially helped Americans get access to their scores and reports and make a difference in their lives."
According to FreeScore.com member Patricia O'Leary of Massachusetts, "Based on what I discovered at FreeScore.com, I've taken steps to improve my credit scores. Hopefully, I'll get them up to where they should be so I have excellent credit again. If it hadn't been for FreeScore making this as effortless as it has been, I probably wouldn't be as far along as I am in achieving my goal of excellent credit," she said.
FreeScore.com also continues to work with R2C Group in Portland, Oregon.
About FreeScore LLC:
FreeScore LLC is a leading provider of online information management services that help people reach their financial goals and achieve safety and security in their personal lives. FreeScore.com is a leading online consumer site, providing its members with affordable, unlimited access to all three of their credit scores and complete credit profile. Launched in 2009 with an award-winning marketing campaign, more than 750,000 members have joined FreeScore.com to better understand their credit scores and reports. Members have unlimited access to their credit scores from all three bureaus, a complete credit profile, credit score simulator, and expert tips, articles, videos and other educational information about credit management. For more information, go to http://www.FreeScore.com.
The articles and information available are for educational and reference purposes only. They do not constitute, and should not be construed as, legal or financial advice. Any legal or financial principles discussed here are for general information purposes only and may differ substantially in individual situations and/or in different states or countries. For specific legal or financial advice, please consult a licensed attorney or a financial professional. FreeScore does not control or guarantee the accuracy of any information provided through external links from the articles on this website to any other website, nor does the FreeScore privacy policy apply to any personal information that may be collected via the external links.
###