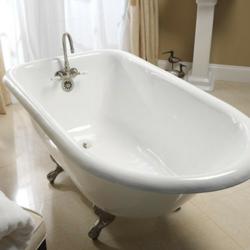 Those in the market for a clawfoot bathtub should not assume that the choice is necessarily a simple one. The more thought is given for the tub choice, the more enjoyable it will be.
(PRWEB) December 19, 2012
HomeThangs.com – the Home Improvement Super Store has made their goal to deliver the right product to the consumer, with that in mind, shopping and home design tips, as well as special product selections are being introduced.
Clawfoot bathtubs are a popular choice for luxury bathroom remodels, and not just period-inspired ones. The simple silhouette of a clawfoot bathtub is so iconic that it adds an instant sense of class and sophistication to any bathroom, whether it is a vintage, cottage style bathroom or a more modern design. But not all clawfoot bathtubs are created equal, and it can be hard to pick the best option out of many styles available. To help a consumer out HomeThangs.com introduced a simple tip sheet with a few things to consider before buying – not least of which is a personal preference for a specific type of clawfoot.
1. Classic Roll Top Tubs
This is the most iconic and most common type of clawfoot bathtub. Rounded on one end and flattened to accommodate the plumbing on the other, tubs like the Cast Iron Roll Top from Barclay for instance, work equally well installed up against a wall or in the middle of the floor, and tend to take up a little less space than other types of tubs. One thing to be aware of, though, is that some roll top clawfoot tubs have a friendlier slope than others. If the back is too steep (as many original vintage cast iron tubs can be) the rolled top can hit the back of the neck uncomfortably. So those who really like a long soak, would be better off with a tub with a wide, gradually sloping back.
2. Slipper Tubs
Slipper tubs are the more modern answer to the neck-discomfort problem common among older roll top clawfoot bathtubs. These have much larger, wider brims on one side that allow to soak with a little extra back support. Many, like the Reminiscence Tub from American Standard for example, are even designed so one can rest the arms comfortably on the lip of the tub for a more luxurious, relaxed bath as well as a shape with a little more visual flair.
3. Clawfoot Tubs For Two
Both classic roll top tubs and slipper tubs are available in double-ended versions: double ended and double slipper clawfoot bathtubs, respectively. These tend to be a little bit bigger (both longer and a little wider) than one-sided tubs, but are designed specifically to be able to accommodate two, with comfy cozy back support on either end, and side-mounted (or floor-mounted) tub fillers so no one will have to rest their head on a faucet. Depending on the type of bathroom, either tub works well, but double-ended roll top tubs are ideal for a more authentic vintage style, whereas the curvier, more shapely double shipper clawfoot bathtubs, like Lion Paw Slipper Tub by Barclay are great for an elegant twist on a modern design.
Now, when thinking of a clawfoot bathtub, most people think of a tub with claw feet. Obviously – it's right there in the name. But if aiming for a more modern bathroom (but like the vintage style or the comfort and elegance of a freestanding bathtub), it does not necessarily have to be the same old clawed-foot design. These days, there are tons of unique freestanding tubs on the market, and "claw" feet come in everything from wood blocks (like those on the Walnut Leg Tub from Belle Foret) to simple geometric metal feet, offering the same sleek tub body but with a slightly different, more modern flair.
4. No Feet
While not technically clawfoot bathtubs, it's still important to note Victorian-inspired pedestal tubs. These come in similar shapes but set on a base (or built into a solid piece) rather than on claw feet, which can give them a more solid appearance. Pedestal tubs, like the Vintage Tub from Kohler for example, also tend to have a little hint of neoclassical, romanesque influence, from column-style pedestals to bit beautiful Victorian style copper tubs, which can ultimately make them seem even more grand and impressive than a conventional clawfoot bathtub.
5. Bathtub Materials
Even once the absolute favorite style has been picked out, the most beautiful comfortable clawfoot bathtub one can imagine, it is still not done. Maybe one of the most important decisions to make when it comes to buying a new clawfoot bathtub is actually what it is made of. Authentic, vintage clawfoot bathtubs (the ones only found in really old homes, flea markets, or scrap yards) are almost always made out of cast iron, and many clawfoot bathtubs are still made this way, but while cast iron retains heat well, it's also extremely heavy and a little more prone to show wear and tear. Consequently, many more modern clawfoot bathtubs are made of acrylic or fiberglass, which is lighter weight, and warm to the touch, but doesn't hold heat as well. If feeling especially bold, one can even find tubs (more often pedestal than clawfoot) like the Medicis tub from Herbeau that are made of solid copper, which would convey an especially Victorian/Steampunk/Sherlock Holmsey feel.
So those in the market for a clawfoot bathtub should not assume that the choice is necessarily a simple one. The more thought is given for the tub choice, the more enjoyable it will be.
HomeThangs.com is not only a home improvement superstore, it also provides expert home design tips and a comprehensive shopping guide, taking the ideas from professional interior designers, and offering tips to the consumers on how to pick the products to best suit their needs.