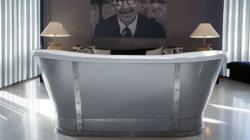 Freestanding bathtubs have been a focal point of designer bathrooms for centuries, first out of necessity, and now because they offer a lot more room for creativity.
(PRWEB) September 03, 2012
HomeThangs.com – the Home Improvement Super Store has made their goal to deliver the right product to the consumer, with that in mind, shopping and home design tips, as well as special product selections are being introduced.
Major bathroom remodels are about two things: comfort, and style. Comfort comes built in to just about every luxury bathroom item. But style takes a little more care to attain. Freestanding bathtubs have been a focal point of designer bathrooms for centuries, first out of necessity, and now because they offer a lot more room for creativity. Modern freestanding bathtubs have a stunning, statuesque quality, and many classic styles can still make a big splash.
To help interior designers and home owners get a one-of-a-kind bathroom look, HomeThangs.com introduced a selection of the most unique freestanding bathtub designs.
1. Victorian style clawfoot tubs have remained iconic since the 19th century, a symbol of luxury and decadence. But while clawfoot tubs are certainly beautiful and add a specific historical quality to your bathroom, they aren't exactly unique in the market. For example, instead of the traditional form, the Reminiscence Tub from American Standard offers a simple twist, which takes the classic design of a slipper tub and gives the backrest a huge, dramatic flair, adding ample arm space and a swooping, petal-like rest for the head and back.
2. Despite the proliferation of clawfoot tubs, some of the most uniquely designed freestanding bathtubs do still have a vintage inspiration. The Medicis Tub from Herbeau is one of the most luxurious ones. Copper bathtubs aren't exactly easy to come by, and by their very rarity they're inherently pretty stunning. This one in particular has an amazing old world decadence to it, especially when paired with a nice vintage tub filler, and will lend more than a little sophistication to any bathroom.
3. Copper freestanding bathtubs don't necessarily have to look like something out of a Sherlock Holmes movie. Modern copper tubs, like the Lexington Tub from Sierra Copper is anything but vintage, but every bit as impressive as its old world brethren. In a world where bathtubs come in a pretty limited selection of materials, a copper tub is pretty eye catching, but this one also has a unique, angular modern design that sets it apart from an average freestanding bathtubs. Plus, there are a lot of reasons to want a pure copper tub like this one – it's easy to clean, naturally antibacterial, and develops a beautiful natural patina over time, just to name a few.
4. When color or texture is added to the outside of freestanding bathtubs, they immediately become more interesting to look at. Doing so breaks out of the expected smooth white porcelain and really anything that's unexpected is visually pleasing and unique. Prince Tub from Knief for example – it has a stunning, modern industrial quality to it that is quite unique. It would take a very modern bathroom and more than a little gumption to pull it off well, but the metal bands and rivets and overall sheet metal aesthetic are definitely not anything to be found in a neighbor's bathroom.
5. Even smaller metal accents, like non-claw style feet or even full metal bases can go a long way towards giving freestanding bathtubs a crisp, modern look. Of course, the squared corners and edges of this Modern Double Slipper Tub from Barclay don't hurt much either, adding a cool modern, geometric twist to an old fashioned style without sacrificing the comfort of the big scooped backs.
6. Freestanding bathtubs with a wooden base or support frame offer slightly earthier look. Tubs like Walnut Leg Tub from Belle Foret have an awesome suspended look in a way that tubs with feet don't really. Because they're supported by separate pieces rather than standing on legs (or at least look like they are), there's a greater impression of the old style basin tubs rather than a modern bath. That, combined with the dark, lacquered wood makes wood base tubs an excellent option for an asian-inspired bathroom with a much more natural vibe.
7. For those who just want to stick with traditional smooth, unbroken white freestanding bathtubs, there is an increasingly wide range of pure white, sculpture-like modern freestanding bathtubs, like a Modern Slipper Tub from Barclay for example. It's got perfectly smooth sides, white matte finish and sits flat on the ground, but the sculpted tall slipper is elegant in its simplicity, and the little curve on the edge is pure style – a beautiful modern interpretation of an utterly classic form.
8. Many of the solid white designer freestanding bathtubs are as much playful as they are stylish, using the slightly glossy white finish of porcelain in the same way that modern artists do, letting curves and bends in the material play with light and shadow for added effect. The Abrazo Freestanding Tub by Kohler is a really great example, with wavy lines all around the upper edge, and a middle that's ever so slightly pinched in to subtly play with the light of the bathroom and add visual interest to a tub that's anything but a blank canvas.
9. The Askew Tub by Kohler is another great example of modern, sculpture-like freestanding bathtubs. On the inside, it's a perfectly normal, rectangular shaped tub, but on the outside it looks like it's made of three staggered, slightly off center and overlapping "stacks' of rectangular pieces. The slightly "broken" or piled book look of this tub is definitely eye catching, modern, simple, and sleek all in one.
HomeThangs.com is not only a home improvement superstore, it also provides expert design tips and a comprehensive shopping guide, taking the ideas from professional interior designers, and offering tips to the consumers on how to pick the products to best suit their needs.