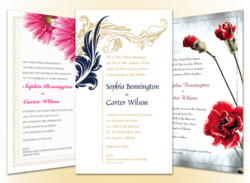 I can't believe there is still such a thing as truly free. I got my invitations 5 days after I attended the bridal show at Knott's Berry Farm Resort Hotel
Long Beach, CA (PRWEB) March 01, 2012
On Sunday, February 19th, organized by Bridal Showplace, over 400 Brides and 1,200 bridal enthusiasts attended the Knott's Berry Farm Resort Hotel for a fun filled day gathering wedding ideas and information to make their wedding day become a reality.
Every bride was in for a big surprise as they were all given a Certificate for Free Printed Wedding Invitations with Free Matching Envelopes, Free Shipping & Free Matching Website, courtesy of PartyPop.com
Some of Southern California's most distinguished wedding professionals were on hand offering everything bridal. Dazzling fashion shows featured the latest bridal styles and door prizes worth thousands of dollars were given away including three luxurious honeymoons.
This Sunday, March 4th, Bridal Showplace will be at the Hyatt Regency in Long Beach. Brides can enjoy a number of activities including cake tastings, beauty makeovers, mini massages and once again, they will all receive Free Wedding Invitations.
Bridal Showplace brings together Brides and top Wedding Professionals throughout the year all over Southern California.
2012 Bridal Showplace Bridal Show Schedule:
03/04 - Hyatt Regency, Long Beach
04/22 - Sheraton Hotel, Cerritos
05/06 - The Sky Room, Long Beach
05/20 - The Crowne Plaza Resort, Garden Grove
08/12 - The Queen Mary, Long Beach
09/09 - LA Marriott Hotel, Burbank
09/30 - Knott's Resort Hotel, Buena Park
11/04 - Hilton Hotel, Pasadena
About Bridal Showplace
Bridal Showplace, online at http://www.bridalshowplace.net/ has been bringing Brides and top Wedding Professionals together for 16 years and over 100 bridal shows! They are also the largest and longest running bridal show in the Long Beach, South Bay area. At Bridal Showplace events you will find an average of 100+ of Southern California's most distinguished wedding professionals offering every product and service necessary to put on a wedding.
About PartyPOP.com - the leading wedding, party and event online network:
Before the Internet era, the professionals at PartyPOP.com were successful hands-on party planners and special event producers. For more than a decade PartyPOP has translated 30 years of party planning experience onto the Internet. Millions of vendors are listed on the network consisting of 60+ websites and tens of millions of customers have used the network to plan their parties, weddings and events. PartyPOP.com also provides party and event related tips, themes and ideas as well as a free full wedding planning software called Seating Arrangement.
###