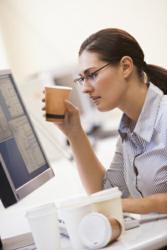 Lack of movement has a direct effect on skin firmness, as the body needs mechanical stimulation to keep collagen production and collagen cell population high.
London, UK (PRWEB) May 31, 2013
Office work distorts body shape by encouraging cellulite creation, skin looseness, water retention and local fat accumulation, so it can be safely said that technology causes cellulite. However, technology, along with some simple lifestyle measures, can also fight cellulite and body shape decline. The Freeze Protocol, developed by LipoTherapeia, the London-based cellulite clinic, aims to help freeze or reverse the negative effects of office work on the skin and help women maintain a firm and youthful body.
For the majority of office workers, work today is almost totally sedentary, most of the time involving just finger movement in front of the computer, while at the same time there is plenty of opportunity for the consumption of calorific snacks, with the abundance of vending machines in offices typically dispensing crisps, fizzy drinks and chocolate bars.
Lack of movement has a direct effect on skin firmness, as the body needs mechanical stimulation to keep collagen production and collagen cell population high. Without mechanical stimulation skin gradually becomes loose. Furthermore, inactivity in combination with sugar and fat-rich foods, causes weight gain, water retention, low grade inflammation and glycation (collagen protein damage by sugar). The addition of after work drinks, either social or to entertain clients adds to the problem, by overburdening the liver.
Cellulite is defined as Oedematous Fibrosclerotic Panniculitis,  i.e. inflammation of fat tissue accompanied by water retention and sclerosis (degeneration) of the connective tissue (mainly made of collagen). So it is clear that the result of computer-based work on the thighs and buttocks fits exactly the description of cellulite.
Technology at home is also to blame. Today we spend more and more time browsing the web and on social media instead of meeting people in person, which again means one thing: we sit on our bum too much and this leads to skin looseness, fat accumulation, puffiness and cellulite.
It is very simple: unless one does something about it, working for 8, 10 or 12 hours in the office in front of a computer and then going home to be on the computer again, will lead to cellulite, excessive local fat deposits and skin laxity sooner or later.
 
And this is what LipoTherapeia's new Freeze Protocol is all about: it comprises hi-tech treatment combined with simple everyday measures to help freeze or reverse the effects of our computer-based lifestyle.
Having nutrient-rich, fibre-rich foods, exercising on a whole vibration machine at lunchtime and walking (at least partially) to and from work are some of the many simple measures that help undo the damage sitting in front of the computer causes. Having a sweet snack only immediately after one hour of physical exercise, is another simple strategy to allow women to get their chocolate fix and stay firm and slim at the same time. Certain natural ingredients contained in supplements or anti-cellulite creams can help fight glycation, low grade inflammation, oxidation and maintain collagen tissue integrity.
Furthermore, LipoTherapeia's Meso-CRF® Advanced Protocol™ treatment, in combination with the lifestyle measures, acts on all the negative consequences of office work. Meso-CRF® Advanced Protocol™ comprises three technologies used simultaneously: Deep Tissue Radiofrequency™, Ultrasonic Cavitation and 15-ingredient ElectroMesotherapy. Deep Tissue Radiofrequency™.
Deep Tissue Radiofrequency™ stimulates fat release and fat cell breakdown (apoptosis), significantly boosts circulation increase in the "cellulite tissues", stimulates collagen production, collagen cell output and collagen tightening. Ultrasound cavitation also helps with fat reduction, while Electro-Mesotherapy assists by providing the skin with natural anti-inflammatory, anti-oxidant, glycation-fighting agents, such as escin, centella asiatica, carnosine, vitamin C, vitamin A and caffeine among others.
LipoTherapeia's anti-cellulite creams, currently exclusively available only to their clinic customers comprise 30+ natural active ingredients to help fight cellulite.
 
"The Freeze Protocol is not a miracle but it represents the best strategies that can be used against cellulite, local fat accumulation and skin laxity, barring quitting your job and becoming an exercise/diet freak," Georgios Tzenichristos, LipoTherapeia's director, exclaims. "It encompasses clever lifestyle measures with the daily application of a cream and treatments once a week to once a month and is ideal for those women who want to maintain their body shape despite working hard 8 hours a day in front of the computer," Georgios adds.
Meso-CRF® Advanced Protocol™ treatments and the advice comprising the Freeze Protocol are available at LipoTherapeia's clinic in Central London. For bookings please visit lipotherapeia.com/book or call 08000 758142 or 020 7047 1982.
---------------------------------------------------------
Disclaimer
Meso-CRF Advanced Protocol offers impressive results in comparison to the majority of radiofrequency, cavitation and needle-free mesotherapy treatments, because it simultaneously combines these three techniques, also saving you time and money (a course of 6x Meso-CRF Advanced Protocol sessions is equivalent to 18x stand-alone RF, cavitation and mesotherapy treatments). These results occur when the treatment is combined with diet, exercise and smoking/alcohol avoidance.
However, nothing biological can be guaranteed by any treatment or any technology, surgical or non-surgical, including Meso-CRF Advanced Protocol. For this reason LipoTherapeia cannot make specific guarantees about specific results after a specific number of sessions, as those not only depend on the effectiveness of the technology used but also on factors over which we have no control, such as the client's diet, exercise and drinking habits; her genetics; her overall health; the severity of her cellulite/skin looseness/fat accumulation; and her goals/expectations.