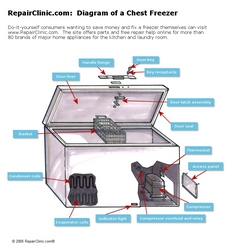 A common question we get is how to avoid freezer burn on meat products
Canton, Mich. (PRWEB) May 15, 2008
A well-running freezer is a smart shopper's best friend. Consumers wanting to maximize their food budget will buy favorite items when available at a lower price and then store them in the freezer for future use. RepairClinic.com provides appliance parts for do-it-yourself repairs and tips to keep the valued freezer clean and running efficiently.
"If you see frost or ice building up on the inside walls, ceiling, or floor of your self-defrosting freezer, it may be time to do some troubleshooting," says Chris Hall, president and co-founder of RepairClinic.com, Canton, Mich. "Our web site provides appliance diagrams and free repair help online for both chest and upright freezers—with manual or self defrosting features. Frost build up on a manual defrost unit is normal."
The freezer-related information available free online includes the following:

Common freezer problems: This section helps consumers troubleshoot problems, such as noisy fans or improper cooling. All freezers should be in the 0 to 8 degrees range. A thermometer ($9.85) is available at RepairClinic.com to measure freezer temperature. It is normal for freezers to self-defrost three to four times in 24 hours. If a component in the self-defrost system fails, the freezer will continue to try and cool. However, eventually, frost will build on the evaporator coils (hidden behind a panel), and the circulating fan can't draw air over the coils. The cooling process is limited, and the freezer will not be as cold as it should be.
How freezers work: This area contains explanations on several freezer systems and components—including automatic defrost, temperature control, cooling, and door seals. For example, the seal is a rubber-like gasket attached to the door, and its job is to keep the cold air inside the freezer. This gasket contains a magnet to hold the door closed and create a tight seal. If this seal is in good condition, the appliance will operate more efficiently and last longer. Freezers in a garage or outside, exposed to sunlight, will run longer and may not keep proper temperatures on very hot days.
Freezer maintenance tips: Chest freezers require very little maintenance; however, all appliances operate better when certain components are clean. Two suggestions are for freezer owners to use a damp rag and a little dish detergent to clean sticky door seals and use a condenser brush ($4.95) and narrow vacuum cleaner attachment to clean the hard-to-reach coils behind or under the freezer.
"A common question we get is how to avoid freezer burn on meat products," explains Hall. "Freezer burn is actually just dehydration of the meat caused by exposure to freezer air. We recommend using airtight containers or wrappings. Most wrappings from the supermarkets do not prevent dehydration. Although freezer-burned food is safe to eat, it may be tough and tasteless. Something every good cook wants to avoid."
RepairClinic.com regularly reminds do-it-yourselfers to consult their repair manuals and to disconnect the appliance from its power source before doing any repair work. If appliance owners have lost their manuals, check the RepairClinic.com web site to see if a copy is available.
To provide live repair help for major home appliances for the kitchen and laundry room, RepairClinic.com's vice president, John Sowden, hosts "The Appliance Repair Show" every Sunday on News/Talk 760 WJR Radio in Detroit from 9 a.m. to 10 a.m. ET. DIY listeners across the U.S. can access the popular show via the radio station's "Listen Live" area on their website, wjr.com.
Founded in Canton, Mich., in 1999, RepairClinic.com® is the most comprehensive online resource for do-it-yourself home appliance repair help, parts and information. The site features more than 80 appliance brands—including Kenmore, Whirlpool, Maytag, GE, Frigidaire, and LG—across 16 appliance types (e.g., washers, dryers, refrigerators, stoves, ovens, and dishwashers). Do-it-yourselfers use the intuitive PartDetective® to find the part they need or the leading-edge service, RepairGuru®, for customized, free repair help. Appliance parts are stocked in a 72,000 sq. ft. facility and shipped the same business day. Visit RepairClinic.com for more information.
# # #