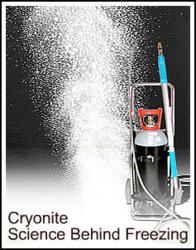 The primary reason for Cryonite being so popular is because it is an effective, non-toxic way of killing bed bugs. Upon contact, bed bugs are immediately frozen to death and any un-hatched eggs will also be frozen and will not produce live instar nymphs.
New York, NY (PRWEB) February 29, 2012
Rest Assured MC is one of North America's leading bed bug product suppliers, and they predict a steady increase in demand for one of its newest products, Cryonite, a bed bug freezing machine.
While working on a daily basis with pest control companies, property managers and hospitality professionals, Rest Assured MC has witnessed an unrelenting problem of bed bug infestations, and no public place appears to be invincible. Schools, hotels, motels, shelters, dormitories, Universities, apartment complexes, libraries, neighborhoods and many other facilities have been infested, and unfortunately bed bug infestations are predicted to continue to occur more frequently in 2012.
Because bed bugs have recently come back with a vengeance, they have brought with them an increasing demand for new and innovative bed bug eradication products. According to a 2011 study by the National Pest Management Association, 99% of U.S. pest management professionals surveyed encountered bed bug infestations in the past year.
Bedbugs were a problem in America after WWII, and in the following decade were nearly eradicated from the continent by spraying a pesticide called Dichloro Diphenyl Trichloroethane or DDT. As effective as DDT was at killing bed bugs, it was incredibly harmful to the environment, wildlife and human health, resulting in it being outlawed in the USA in 1972.
In the years that followed many thought that bedbugs had gone the way of the Dodo bird, but due to bans on pesticide, increased resistance, and frequent international travel, bed bugs have seen a recent resurgence and are a bigger problem today than many would have anticipated.
While the jury is still out as to the absolute best way to permanently eradicate bed bugs, a new and increasingly popular method of killing them immediately has been freezing bed bugs with an environmentally friendly product called Cryonite. Cryonite sales are anticipated to boom in 2012 with a higher demand than alternative products.
The primary reason Cryonite will be growing in popularity is because it is an effective, non-toxic way of killing bed bugs. Upon contact, bed bugs are immediately frozen to death and any un-hatched eggs will also be frozen and will not produce live instar nymphs.
Secondly, Cryonite is an eco friendly product that does not contain pesticides or other toxic chemicals. It is a CO2 "snow" and when it is applied to the infested sites, it does not leave a toxic residue that would be harmful to other forms of life like humans or animals.
In addition to being a non-toxic method with immediate results, it is safe to treat appliances and electronics with Cryonite. This is a major advantage that freezing bed bugs with Cryonite has over other popular non-toxic treatments like heat and steam, whereas heat treatments frequently cause damage to electronics, rubbers and plastics.
It is also worth mentioning that there are still many forms of legal pesticides on the market that kill bedbugs by poisoning them with toxic chemicals, but these products are becoming less popular. While pesticide can be effective, treating with poison is dangerous to all forms of life, especially to those with delicate immune systems like the elderly, children and pets. This has discouraged the use of pesticide treatments in schools, hospitals and retirement centers, which will also add to Cryonite's increasing market share and make it the preferred method for immediate bed bug treatment in 2012.
Rest Assured MC is a partner of The Allergy Guy, a leader in bed bug prevention in both The USA and Canada. For more information on how freezing bed bugs can treat your property please call Brandon at 702 580 3493 or visit http://www.restassuredmc.com/request-quote/.
# # #