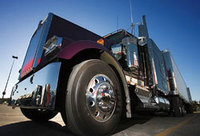 Never underestimate your competition and always continue learning.
Phoenix (PRWEB) May 27, 2008
Accounts Receivable Financing company, Phoenix Capital Group LLC, has made Entrepreneur Magazine's 2008 Hot 100: The Fastest Growing Businesses In America: http://www.entrepreneur.com/hot100/details/200818.html. Hard work and perseverance has made Craig Berry's and Mike Demore's Factoring Company the go to choice for trucking companies of all size.
For those not familiar with the term factoring, it simply is a way for businesses to finance its operations from income already earned. In the case of a trucking company, the owner usually has to pay large amounts of upfront expenses before any revenue is collected. These expenses include but are not limited to the cost of equipment, wages, maintenances and the ever growing price of fuel. Often these expenses are not recouped for 30-90 days while the invoice is being paid. This cash flow crunch can stunt the growth and operations of any sized company. The solution is Freight Bill Factoring with an experienced company like the Phoenix Capital Group.
Phoenix Capital Group (PCG) is a one-stop transportation services provider. PCG's services include factoring, equipment financing, truck factoring, and fuel cards. Basically, Freight Factoring is the process of a trucking company selling its invoices to a third party at a slight discount. The trucking company then receives its money right away and can use the positive cash flow to not only maintain but also expand their business. The important distinction of factoring is that it is not a loan; it is a form of asset based lending or Accounts Receivables Financing.
Phoenix Capital Group's primary reason for rapid growth is its experience and professionalism. Even with their rapid expansion, a fundamental it never skimps on is customer service. PCG's stellar customer service can be summed up by its philosophy: "Never underestimate your competition and always continue learning." This top down leadership approach will ensure that Phoenix Capital Group remains a leader in the Freight Factoring industry.
For more information on Factoring, Freight Factoring services, or Phoenix Capital Group, please call (623) 298-3456, fax (623) 298-5715, or visit their official website. Individuals and companies in need of Freight Factoring Services are invited to apply online with no application fee and have an account set up in 24 hours.
For More Information:
Craig Berry
http://www.phoenixcapitalgroup.com/
Phoenix Capital Group, LLC
1606 West Whispering Wind Drive
Phoenix, Arizona 85085
Tel (623) 298-3456
Fax (623) 298-5715
###