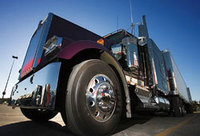 Phoenix, AZ (PRWEB) May 1, 2008
Freight Factoring Company, Phoenix Capital Group, is now offering Freight Factoring solutions to help trucking companies grow their businesses and increase their cash flow without the use of a loan.
The current state of the economy is creating many obstacles for many companies, including trucking companies, to operate in. Expenses are rising at a faster rate than freight prices. According to official energy statistics of the U.S. government, fuel prices are increasing at an astronomical rate http://tonto.eia.doe.gov/oog/info/gdu/gasdiesel.asp. The trucking industry, among others, is experiencing the residual difficulties of the increased fuel rates first hand.
However, fuel prices are not the only expense that affects the bottom line of trucking companies. The main costs are hidden; the cost of the time value of money. Often, truckers are paid 30-90 days after the work is completed. This results in the fact that the company itself has to bear the expenses of the truck, fuel, wages, and maintenances upfront before collecting any revenue. This in turn leads to a cash flow crunch; which can be the beginning of a vicious cycle which may put the company in jeopardy.
Thus, Freight Bill Factoring is now becoming more popular with trucking companies to reduce these cash flow issues. Freight Factoring offers a solution to the cash flow crunch. Basically, Freight Factoring is the process of a trucking company selling its invoices to a third party at a slight discount. The trucking company then receives its money right away and can use the positive cash flow to not only maintain but also expand their business. The important distinction of factoring is that it is not a loan; it is a form of asset based lending or accounts receivables financing. The trucking company does not pay any interest on the Freight Bill Factoring, which it makes factoring even more lucrative for trucking companies.
By offering Freight Factoring services, Phoenix Capital Group is a one-stop transportation services provider. Phoenix Capital Group's services include factoring, equipment financing, truck factoring, and fuel cards. Individuals and companies in need of Freight Factoring Services are invited to apply online with no application fee and have an account set up in 24 hours.
For more information on Factoring, Freight Factoring services, or Phoenix Capital Group, please call (623) 298-3456, fax (623) 298-5715, or visit their official website.
For More Information:
Craig Berry
http://www.phoenixcapitalgroup.com/
Phoenix Capital Group, LLC
1606 West Whispering Wind Drive
Phoenix, Arizona 85085
Tel (623) 298-3456
Fax (623) 298-5715
# # #