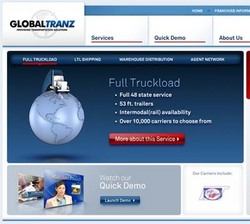 GlobalTranz is happy to be partnering with SmartWay and all its partners
Phoenix, AZ (PRWEB) October 7, 2008
Leader among freight brokerage firms, GlobalTranz, has joined with the EPA to help reduce the amount of greenhouse gases produced by the shipping industry. As a part of the SmartWay Transport Partnership, GlobalTranz will contribute to a reduction of both carbon dioxide and nitrogen oxide.
With this partnership and others like it, the transportation industry aims to reduce up to 33 million tons of carbon dioxide and 200 million tons of nitrogen oxide by 2012. Freight brokerage firms like GlobalTranz plan to do so by improving the efficiency of international freight shipping operations.
"GlobalTranz is happy to be partnering with SmartWay and all its partners," says Brad Berlin, COO of GlobalTranz. "We are glad to do our part in creating a better place to live."
Launched in February of 2004, the SmartWay Transport Partnership aims to achieve energy savings of up to 150 million barrels of fuel per year. The Partnership brings together major freight brokerage firms, shippers, trucking companies, railroads, logistic firms and appropriate trade/professional organizations to pursue mutually beneficial energy efficiency solutions. The result is a reduction in emissions as well as other environmental improvements and a reduction in fuel consumption and overall costs. There are currently over 900 members taking advantage of the transport solutions encouraged by the Partnership.
As a transportation and warehouse management systems expert with an eye on the future, GlobalTranz is pleased to be involved with the SmartWay Transport Partnership. They are excited that their efforts will not only reduce levels of carbon dioxide, the most prevalent greenhouse gas, but also nitrogen oxide which is a major contributor to smog.
As a transportation and warehouse management systems expert, GlobalTranz is able to contribute to the project in a number of ways. They expect to be able to continue to teach clients how to improve supply chain management while achieving the Partnership's green goals.
For more information about GlobalTranz's shipping solutions, warehouse management systems and their commitment to the SmartWay Transport Partnership, please visit GlobalTranz.com.
About GlobalTranz:
GlobalTranz is a logistics and supply chain management firm based in Phoenix, Arizona, which specializes in carrier, supply chain and warehouse management. Founded in 2003, GlobalTranz quickly became a first class provider of Supply Chain Management. Local to national accounts engage their free state-of-the-art technology, Carrierrate.com, which optimizes the flow and storage of merchandise as the goods move within and throughout the customers' supply chain. In 2006, GlobalTranz obtained a DHL Partner contract which allows them to market all DHL services at highly discounted rates to their customers. GlobalTranz's goal is to create an environment where carriers and shipping customers are 'connected' to create a mutually beneficial solution for all parties involved; and environment where service and price requirements are optimally match with a carrier's transit times and operational strengths.
###