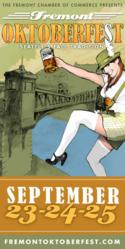 ...no matter how you spell it, there is a plethora of Oktoberfest-style ales to toast the Oktoberfest tradition right here in the "Center of the Universe."
Seattle, Wash. (PRWEB) August 31, 2011
Celebrate Seattle's Fall Tradition in a glass! The Tasting Garden at Fremont Oktoberfest features over 80 microbrews, imports, and German beers. Join us for the macro fun September 23-25th.
Dominating the event's beer line-up are over ten different autumn brews for guests to taste as they kick off the new season. From Firestone Walker Brewing Co.'s Oaktoberfest to Lazy Boy Brewing's Oktoburfest and Georgetown's Tomberfest, no matter how you spell it, there is a plethora of Oktoberfest-style ales to toast the Oktoberfest tradition right here in the "Center of the Universe."
For a broader tasting line-up, don't miss the classic microbrews and new brews from the classic microbreweries. Georgetown Brewing Co. is serving up Manny's and Fremont Brewing Company has Universale Pale Ale on tap, but both are coming to the event with two new beverages for you to sample.
Want to steer towards the more traditional Oktoberfest experience? Go big with your beer by heading straight to Tap House Grill Buxom Beer Garden for your official 1-liter beer stein brimming with German beer. Half-liters and 16oz glasses are also available. For the full line-up of microbrews, imports and German beers, visit FremontOktoberfest.com/TastingGarden.
Fremont Oktoberfest takes place September 23-25, 2011 and is a benefit for the Fremont Chamber of Commerce. Advance general admission is $20 and includes five tasting tokens and a commemorative tasting mug. Bump up to an advance grand admission for only $25, which includes ten tasting tokens alongside your Fremont Oktoberfest tasting mug. Additional tokens and beer-filled steins are available for purchase inside the Tasting Garden. Ticket prices increase the weekend of the event, online and at the gate.
For tickets and information, visit FremontOktoberfest.com.
Contact: Lacey Lybecker
Phone: 206-633-0422
Email: lacey(at)boldhatproductions(dot)com
###