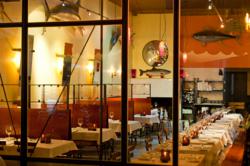 This region of Northern California produces the best livestock, seafood, and produce in the world.
San Francisco, CA (Vocus/PRWEB) February 09, 2011
Plouf Seafood Bistro, the European-style bistro in Belden Place that specializes in approachable, progressive, organic San Francisco cuisine, will serve Bay Area lovers all Valentine's Day weekend—including Sunday, February 13—from 5:30 to 11:00pm. This will mark the first Sunday the romantic San Francisco restaurant will serve patrons in 16 years.
This year's special Valentine's menu will feature Local Swordfish, Chili Roasted Dungeness Crab, Slow Roasted Rack of Lamb, and Filet au Poivre. The dessert menu includes Plouf-style cheesecake—a lighter, West Coast-style cheesecake where the sour cream is baked on top instead of mixed into the cake, and served with brandied cherries.
Plouf is famous for their approachable, organic, progressive California cuisine, which executive Chef Mark Papedis describes as French cuisine prepared with less fat and butter to make it lighter and using high quality local meats and produce.
"This region of Northern California produces the best livestock, seafood, and produce in the world," said Papedis. "The ingredients coupled with California innovation are what set San Franciscan cuisine apart from the rest. That's why people come from all over the world to experience the food. They don't come here to have 1980's Classic French cuisine; they want a San Francisco food experience."
Plouf is probably best known for their San Francisco mussels and Dungeness crab, of which they receive live deliveries from local producers twice a day. Mussels are prepared in six different ways using coconut, locally-brewed Anchor Steam beer, Pastis (an anise-flavored liqueur and apéritif from France), Cajun-style Tasso ham, bacon, shallots, lemon, and lime. Their Dungeness crab is baked in olive oil, a tradition that originated in San Francisco's North Beach neighborhood.
Plouf is exceptionally choosy when procuring all of their ingredients. They buy Mary's free-range organic chicken. Mary's chickens are not only humanely raised, they are air chilled instead of submerged in a communal bath, so they are more flavorful and not soggy. Plouf also follows the Monterey Bay Aquarium Seafood Watch recommendations, which help consumers and businesses make good choices for healthy oceans.
Plouf shut their doors for three days last November and made sweeping changes to the restaurant. Larger, square plates accommodate larger portions and better fit the tables; their new menu items reflect an improved focus on the customer; and new lighting has created a more intimate, yet energetic atmosphere. Plouf is certainly one of the best seafood restaurants in San Francisco.
"Tables at Plouf are purposely close together to encourage interaction," said Papedis. "We see total strangers sit down and before long they are laughing together, sharing bottles of wine and bites of food off of each others' plates, and really enjoying each other. People come in as quiet couples and end up doing shots with their neighbors by the end of the evening. It's a beautiful thing."
For more information about Valentine's Day weekend service or any other Plouf Seafood Bistro's services, please call (415) 986-6491, visit their website at http://www.ploufsf.com, or drop by the restaurant located at 40 Belden Place in San Francisco.
About Plouf Seafood Bistro
Plouf Seafood Bistro is a downtown San Francisco Financial District seafood restaurant that specializes in mussels, unique appetizers, salads, seafood dishes, and meats. Plouf is home to the best San Francisco happy hour; Plouf is also the sound a stone makes when it drops into a French stream.
Chef Mark Papedis studied cooking in France, served as chef at the Ahwahnee Dining Room in the world famous Ahwahnee Hotel in Yosemite National Park for three years, and served as chef at Wente Vineyards in Livermore for the last five years.
About Belden Place
Sixteen years ago while people were avoiding looking down, and certainly not walking though, the garbage alley named Belden place—Erik Klein and Oliver Azancot saw an opportunity. They imagined the passageway filled with tables and chairs, great food and wine, and sparkling lights—the kind of setting friends would gather for a magical evening of epicurean delight.
It was here they opened Café Bastille in 1990, and over the years the addition of other great bistros like Plouf and B44 have transformed this former garbage alley into a piece of Old Europe—a world-class dining experience, a San Francisco landmark where residents and visitors from all over the world come to raise their forks, glasses, and spirits and celebrate the good things in life.
# # #