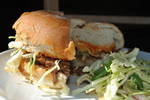 What a nice place! The food is very good and fresh. Their lamb sandwich is to die for!
San Francisco, CA (PRWEB) December 16, 2011
Offered for a limited time only, L'acajou Bakery and Café is offering cookie gift boxes. San Francisco French bakery, L'acajou's gift boxes make great presents for the holidays and would be a great way to show loved ones that they are truly appreciated.
The holiday cookie gift box includes a wide assortment of fresh baked cookies, including almond blossom cookies, dark chocolate chip cookies with mint toppings, biscotti cookies with pistachio and dried cherries, lemon Mexican wedding cake cookies, and many more.
"What a nice place! The food is very good and fresh. Their lamb sandwich is to die for! Prices are great, the staff is super sweet, and I love the ambiance. I usually never venture in that part of town, but I'm sure glad I found this place. I'll definitely go back again," said Flo A. of San Francisco CA .
The gift boxes would be great for any holiday party, providing for a memorable gift for both the gift-giver and the recipient. For more details, contact L'acajous Bakery today at (415) 503-9696 or visit their website http://www.lacajou.com/. There a customer can discover a variety of meals such as a lamb sandwich and cinnamon rolls ready to serve for breakfast, lunch and dinner. They are located at 498 9th St. in San Francisco .
About L'acajou Bakery and Café
L'acajou Bakery and Cafe offers an array of breakfast options, paninis, sandwiches and vegetarian dishes, whipping up something tasty for everyone. The San Francisco French cafe now has happy hour every day from 4 to 6 p.m. Starting this holiday season, this San Francisco sandwich shop will be offering a 2-for-1 happy hour for all pastries and cookies. L'acajou Bakery & Cafe also offers catering services, such as lunch catering, for all occasions, whether it's a local event, corporate lunch or private party. They now offer free delivery to SOMA and the Financial District of San Francisco.
###