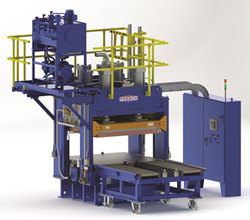 Piqua, Ohio (PRWEB) January 18, 2016
French Oil Mill Machinery Company and TMP, A Division of French, a custom hydraulic press manufacturer, recently developed a hydraulic press system to improve the part quality of critical composite aerospace components while dramatically reducing production cost, energy consumption and noise emissions.
The downacting, sideplate hydraulic press system is designed with an Integrated RTM Package and Precision Control Motion Package. Also included in the rugged design are French's patented tapered keys which extend the life of the headblock, sideplates and main cylinder. The reservoir and hydraulic power are mounted on top of the headblock, reducing the overall footprint of the press. A platform with ladder is provided to allow access and serviceability. The energy efficient hydraulic design reduces horsepower and noise throughout the molding cycle.
The press comes standard with steel, multi-zone electrically heated platens that are rated to 500º F and have nickel plated water cooling passages for corrosion resistance. Each platen includes edge insulation for enhanced temperature uniformity and provides three stages of cooling. Customers may choose to upgrade to specialized Uni-Temp platens for even more advanced temperature control for both heating and cooling phases.
Customers may also elect to include the Edge II Control System, a specialized recipe and data collection system programmed to monitor critical processing data, insuring consistent results. Press operators can create & store process recipes, retrieve and capture data with chart and display graphs on a color touchscreen interface. The system has an Ethernet communication port, allowing integration into the customer's plant system. Further, French's electrical engineers can remote into the permission-based control system to make electrical upgrades or for troubleshooting.
A mold cart with casters is available to allow easy tooling transport from the layup or tooling room to the press room. Guides are provided to insure proper alignment between the cart and the press. Low friction rollers or bearings allow the tooling to be manually loaded and unloaded between the cart and the press.
French provides technical assistance to re-assemble and start-up the press once it arrives at the customer's facility. In addition, the French technician facilitates basic operation training to help the customer start molding their critical components soon after delivery.
To learn more about this composite molding press system or other custom hydraulic presses please visit French & TMP in booth M40b at the JEC World Expo taking place in Paris, France, from March 8-10, 2016, or visit http://www.frenchoil.com.
French Oil Mill Machinery Company is an ISO-certified, 4th generation family-owned U. S. company that custom designs, manufactures and supports hydraulic press systems for molding rubber and composite materials, oil screw presses for synthetic rubber processing and for the separation of liquids from solids, and oilseed equipment used to extract vegetable oil from seeds and nuts, and to produce biofuels. For over 115 years French has partnered with their stakeholders, in over 80 countries worldwide, to provide products with superior value and superior service that improve their customers' productivity and reduce overall production costs. French's 225,000 square foot corporate office and manufacturing facility are located in Piqua, Ohio, USA.
TMP, A Division of French is a FOMMCO brand.