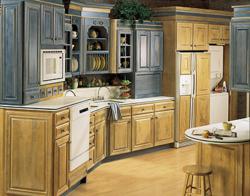 French Country style is based on natural elements, and it is delightfully warm-toned and cozy.
(PRWEB) July 22, 2012
HomeThangs.com – the Home Improvement Super Store has made their goal to deliver the right product to the consumer, with that in mind, shopping and home design tips, as well as special product selections are being introduced.
French Country design is the best of Old World elegance without too much "frou frou". The style is based on natural elements, and it is delightfully warm-toned and cozy. Interior designers at HomeThangs highlighted the key elements of the style to help consumers pick the right products to balance the French Country kitchen design equilibrium.
1. Natural Building Materials
French Country design starts with the woods - wood and wooden cabinets, exposed beams, barn wood in the ceilings and furniture trump up the rustic side of the look. Some freestanding pieces, such as the Hardware Resources ISL05-AWH Kitchen Island By Lyn Design will be a good fit.
The most striking feature of French Country kitchens is the kitchen cabinets, which are either very dark or very light wood. Nearly transparent varnishes applied to light wood so the grain shows through will add to the style. It's also common in French Country kitchen design to paint the wood white, off-white, eggshell, taupe, beige, or a series of other names for neutral, such as the A La Carte K540-C Kitchen Island by Kaco, In A Lightly Distressed Cream Sherwin Williams Finish. At the other end of the spectrum, some cabinets have dark varnish or black paint, such as the Hardware Resources ISL05-DBK - Kitchen Island By Lyn Design in distressed black. French Country design also allows putting dark and light cabinets together.
2. Natural Accents
Wood isn't the only natural building material essential for a French Country style of kitchen design. Kitchens just aren't user friendly without countertops and backsplashes, which makes lots of space for natural stone, decorative tile, and even brick. Copper tile accents, such as the Soci Rooster Copper Tile, surrounded with a few distinct varieties of stone tile, such as the Soci SSH-215 Onyx Mosaic Tile will make a perfect backsplash in a French Country Kitchen.
3. Country Color Palette
With the cabinets in traditional neutral tones, accents are where French Country kitchens pop. The color palette spans the range of any earthy tones, which one can usually find by the earthy names. Sunshine yellow, terra cotta, rust, brick, and grass green. Red tones are especially popular, to make the room feeling warm and cozy.
4. Decor Touches
Terra cotta, pottery, copper and wrought iron decor all make wonderful design accents, such as the Sterling Le Jardin Bowl, 93-0724 or Terracotta Dish 125-007. They are elegant and understated. Old World inspired cloth (on the curtains and chair covers) is another soft accent: French fabric stripes, paisley, plaid, country prints, tapestry, and toile in neutral tones. Useful antiques like clocks are another great touch.
5. Hardware and Fixtures
Another place traditional elegance comes into French Country style is with kitchen fixtures and cabinet hardware. The wood may be pretty smooth-lined and simple, and the deep sinks, too, but the faucets and handles are usually stately works of art, such as the Rohl A1458xws-2 Lead Free 3-Leg Double-Handle Bridge Kitchen Faucet with Side Spray from the Country Kitchen Collection. A simple, white, luxuriously large and deep kitchen sink like the Rc3018 30" Handcrafted, Single-Basin, Fireclay, Apron-Front Farmhouse Kitchen Sink From The Shaws Original Series by Rohl feels perfectly European.
6. Kitchen Appliances
Classic looking appliances in a simple traditional style with light colors would be the best fit for a French Country Kitchen. HomeThangs offers Heartland Appliance, - a whole range of vintage kitchen appliances designed to do exactly that: to take one back to home cooked meals and Sunday dinner with the family. Heartland's kitchen ranges are at the heart of their collection of vintage kitchen appliances, and the basis for their vintage kitchen aesthetic.
Another brand offered by HomeThangs, which makes classic style appliances, is AGA. AGA's kitchen ranges have a somewhat vintage flair to them, with tons of small doors and drawers and brightly colored enamel finishes, arranging several different, specialized ovens around a central heat source. Outwardly, their ranges more strongly resemble vintage ovens than shiny modern appliances, which would look very authentic in a French Country Kitchen, but even the most wood stove-styled of their ovens is made with sophisticated heating technology.
7. Lighting
Lighting fixtures that have the artistry of Old Europe and the earth tones of nature would be a good match. Rustic finishes, tiny crystal details, cream or white shades, golden tones are something to look for when choosing lighting for a French Country Kitchen. The French country style of decorating is a very eclectic mix of warm color and natural metals. HomeThangs offers a variety of French country style lighting to help complete the look. For example: Crystorama lighting offers a lot of lighting fixtures to match the French Country Style, such as Abbie Collection Hand Cut Crystal Mini Lantern, Ornate Detailed Pendant Accented With Rich Honey Glass, or Majestic Wood Polished Crystal Chandelier in textured Venetian Bronze finish to remind of a Paris flea market.
HomeThangs.com is not only a home improvement superstore, it also provides expert design tips and a comprehensive shopping guide, taking the ideas from professional interior designers, and offering tips to the consumers on how to pick the products to best suit their needs.