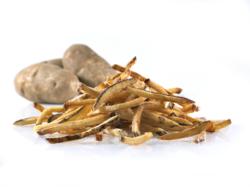 "The Idaho Russet potato is prized because it's heavy, solid, and quite flavorful," said Ed Rensi, co-founder of Tom & Eddie's. "When our chefs fry these babies, the fries caramelize creating a rich dark color, great flavor and perfect crispiness."
(PRWEB) July 09, 2012
National French Fry Day is "Fryday," July 13. To honor America's fascination with these little golden brown sticks, Tom & Eddie's will celebrate all week with coupons for complimentary fries from Monday to Friday, July 9 – 13. The coupon is available on the Tom & Eddie's Facebook page.
In addition, on "Fryday", July 13, kids are invited to participate in a coloring/drawing contest to win a free Mr. or Mrs. Potato Head at all Tom & Eddie's locations – Lombard, Geneva, Deerfield and Vernon Hills. A Mr. Potato Head will be awarded every hour at every store so there are plenty of chances to win.
The average American eats about 29 pounds of fries annually, an impressive statistic that proves their popularity.
French fries did not originate in France as the name implies but in Belgium during the 1600′s. The term "French fries" was coined in World War I by American soldiers who were introduced to them in Belgium. They should be called "Belgium fries," right? They were so named because Belgians speak French.
Tom & Eddie's fries are very special indeed. Tom and Ed use fresh – never frozen - Idaho Russet Burbank potatoes, hand-cut by the chefs of Tom & Eddie's. These crispy delicious fries are made with skins on for the most nutritional value and then seasoned with Natural sea salt.
Tom & Eddie's co-founders Tom Dentice and Ed Rensi insist on top-quality Idaho Russet potatoes. Russets are grown in many states; however, Tom and Ed feel potatoes grown in Idaho are the best. What gives these potatoes unsurpassed texture, taste and dependable performance is the unique growing season of Idaho with warm days and cool nights, ample mountain-fed irrigation and rich volcanic soil.
"The Idaho Russet potato is prized because it's heavy, solid, and quite flavorful," Ed Rensi said. "When our chefs fry these babies, the fries caramelize creating a rich dark color, great flavor and perfect crispiness."
Each potato used at Tom & Eddie's is between 10 – 13 oz. with a rounded, somewhat elongated shape, few and shallow eyes, clean and smooth skin and a firm texture. Tom and Ed do not accept any cuts, bruises or discoloration.
"We cook them with the skins on for two reasons," Tom Dentice said. "Skins add richness to the flavor, and there are a lot of nutrients in the skins."
Tom & Eddie's is a family-friendly restaurant focused on providing its customers with gourmet, fresh, never frozen, Angus burgers, personal customer service, and a relaxed and happy dining experience. Locations are in Lombard, Geneva, Deerfield and Vernon Hills.
For more information about Tom & Eddie's, visit: http://www.tomandeddies.com.