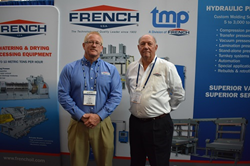 Piqua, Ohio (PRWEB) February 03, 2017
French Oil Mill Machinery Company, a custom machinery manufacturer, has announced their 2017 trade show and event schedule for their hydraulic press, rubber mixer, polymer and oilseed equipment product lines.
At each event, French sales engineers will be pleased to discuss manufacturing requirements and how French can improve customers' processes with custom engineered and manufactured equipment or with service of existing equipment.
The event schedule covers a wide range of domestic and international markets and industries from composite, rubber and printed circuit boards to biodiesel and oilseeds.
The French hydraulic press group will display their wide range of custom hydraulic press systems at the IPC Apex Expo, JEC World, SAMPE, CAMX and the International Rubber Expo. Information on TMP style rubber mixers and French dewatering and drying screw presses will also be available at the Rubber Expo.
In addition, the French polymer group will attend the 4th World Elastomer Summit and the IISRP Annual General Meeting.
The French oilseed group attended the National Biodiesel Conference last month and will also attend the IOMSA Summer Convention and 4th High Oleic Oils International Congress later this year. Their Achiever oilseed extraction screw press and other oilseed processing equipment will be featured at the AOCS Annual Meeting and Industry Showcase, the AOCS Latin Congress and the Oils and Fats International Trade Fair. The latter two shows and the HOC Congress are new to French's event schedule this year.
Please contact French if you would like to schedule a one-on-one meeting with one of French's sales engineers at any of the 2017 trade shows and events. For more detailed information about the products displayed at each event and for event dates and locations please visit the posted trade show and event schedule on http://www.frenchoil.com/trade-shows.