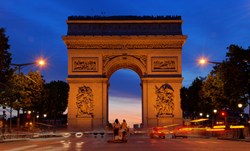 drivers in France will be required to carry at least one disposable breathalyser in their car at all times
(PRWEB UK) 5 July 2012
As of the 1st of July all drivers in France will have to carry at least one single use breathalyser in their car at all times, furthermore, the breathalyser will need to comply with French regulations and carry the French "NF" label. This adds to a list of safety devices that motorists driving in France are already required to carry. While this new law will officially come into force on the 1st of July, there will be a period of good grace until November before penalties will be issued.
France has been plagued with drink driving problems. According to figures published by France's Road Safety Authority one third of accidents in France each year are caused by drink drivers compared to 12% in Germany and 17% in the UK. This, coupled with the UK Foreign Office reporting a French accident rate which is double that of the UK, highlights the scale of the drink driving problem in France. As a result the French have been cracking down heavily on drink driving as well as trying to improve road safety.
The drink driving limit in France is considerably lower than it is in the UK at just 50mg of alcohol in 100ml of blood, compared to 80mg in the UK. Harsh penalties also apply; drink driving in France can be punishable by 3 years in prison and fines of up to €9,000 with much greater fines if you have an accident or injure someone.
As well as a breathalyser, people driving in France are required by law to carry a red warning triangle and at least one high visibility vest in their vehicle at all times. When driving in France British motorists should also be aware that they have to have a GB sticker visible on their car and in-car radar detectors and satnav systems that identify the location of speed cameras are illegal, whether or not they are being used. A driver who is found without one of the safety accessories or found to have an illegal satnav risks being fined or having their vehicle confiscated.
Andrew Goulborn, Commercial Director at car insurance comparison site Tiger.co.uk commented: "People driving through or to France this year should make sure they're well prepared. This includes keeping abreast of the local driving laws and making sure they have what they need on-board for the journey. Drivers also need to make sure their car is ready for long journeys by running some simple checks including things like checking tyre pressure and oil levels. We provide a pre-holiday driving checklist on Tiger.co.uk which offers advice on how to prepare a vehicle for trips like this. Furthermore, make sure you check your car insurance policy details with your insurance provider to make sure you are covered to drive in Europe. While some car insurance providers include car insurance cover for driving in Europe as standard, there are a significant number that do not."
About http://www.tiger.co.uk:
Tiger.co.uk is a trading name of Call Connection Ltd. Tiger.co.uk is a UK based, independent car insurance comparison site, offering insurance quotes from over 150 motor insurance brands. Call Connection Ltd is authorised and regulated by the Financial Services Authority (number 308374).