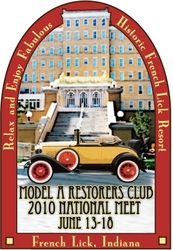 Activities for the week are action-packed and the ambiance of the hotels and surrounding communities is steeped in history. A century ago, it was not unusual to see hundreds of Model A's in the area.
French Lick, IN (Vocus) May 18, 2010
French Lick Resort will be transformed into a bygone era June 13-18 as 500-800 Ford Model A automobiles and their owners, some dressed in period clothing, gather for a national convention.
The week-long agenda for the 2010 Model A Restorer's Club National Convention includes events, judged contests and tours at the Indiana landmark hotels under the theme "Where History & Hospitality Meet."
Given its historical significance, French Lick resort was an easy choice for convention organizers. As the Midwest's premier resort and casino destination, French Lick offers two luxury hotels, a conference center, a 24-hour casino, three golf courses, fifteen dining venues, and multiple recreation options on 3,000 acres of history and natural beauty. A $500,000,000 renovation has recently restored and enhanced this famed property.
The public is invited to visit with car owners, view the Model A automobiles and chat about history and preservation of classic cars.
One highlight occurs Thursday, June 17, when an estimated 500 to 800 Model A's will travel from French Lick south on an 84-mile trip to the Ohio River to tour the restored Laconia/Cedar Farm, 1837 Antebellum estate where volunteers dressed in period costume will highlight features of the mansion. Photography and history buffs may capture the road trip as it proceeds from French Lick to the scenic Leavenworth Overlook and Historic Corydon before arriving at Cedar Farm. (Full route below)

Take IN-145 for 16 miles to Eckerty Junction
Turn Left on IN-64 for 2 miles
Turn right on IN-37for 7 miles (passing over I-64)
Turn left onto IN-62 for 26 miles to Corydon
The national convention of Model A owners, which were built from 1928 to 1931, will also include an indoor/outdoor swap meet, seminars, youth activities, ladies functions, fine point and touring class judging, fashion clothing swap meet, a judged fashion show, vintage train rides, tours to St. Meinrad Archabbey and Lincoln Dinner Theater. Owners are also expected to take self-guided tours to places like Spring Mill State Park, Beck's Mill, Holiday World, Blue Springs Cavern, Montgomery and Amish Country, St. Benedict Abbey and Birdseye.
Backers of the national convention are encouraging visitors from Greater Bloomington, Louisville, Cincinnati and Indianapolis to take in the sights and sounds of living history.
"People will find that we are a very friendly group of people who are interested in history and preservation," said Rex Hinkle, meet secretary. "Activities for the week are action-packed and the ambiance of the hotels and surrounding communities is steeped in history. A century ago, it was not unusual to see hundreds of Model A's in the area.
"Many of the Model A's that will be participating in this convention may very well be returning home to yesteryear. Many of them, in fact, are likely making return visits to the resort," Hinkle said.
To participate in activities, membership is required with M.A.R.C. (Model A Restorer's Club). For more information about the event, visit http://www.2010marcmeet.com
About French Lick Resort
French Lick Resort is a $500 million historic restoration and casino development project that includes the West Baden Springs Hotel, French Lick Springs Hotel and the new French Lick Casino. This premier resort and casino destination in Southern Indiana features 689 guest rooms and suites; a 42,000-square-foot, single-level casino; 45 holes of golf, including the fully restored 1917-designed Donald Ross Course at French Lick and the new, 18-hole Pete Dye Course at French Lick; two full-service spas with a combined 36 treatment rooms totaling 42,000 square feet; meeting and event space totaling 115,000 square feet and an array of dining and entertainment options.
For more information or to book a stay, please visit http://www.frenchlick.com or call our reservation specialists at (888) 936-9360.
Media Contacts:
Dyan Duncan
Public Relations Manager
French Lick Resort
812-936-5926
###